I once heard what sounded like some great advice: if you find a shampoo and conditioner you love, try the hair sprays, volumizers and other styling products in the same brand and you'll probably end up liking them too.
The only problem is that really doesn't hold true particularly when you hit organic and natural product lines. Worse is that many natural and organic companies that make shampoo and conditioner are very sparse when it comes to styling and finishing options.
And even worse than that, I have issues with anything rose scented and Tim can't be around me if the rosemary or lavendar is too strong (and rosemary makes my hair look A-Maz-ing! Argh!) I would be using Shea Moisture Organic Raw Shea Butter Moisture Retention Shampoo and their Organic Raw Shea Butter Restorative Conditioner but the rosemary in them gave Tim a headache. :/
So what's a girl to do when she she has allergies, her significant other has allergies AND she wants to go with a natural product? Research a LOT and try a LOT of products until one clicks.
For reference and for those familiar with the Naturally Curly hair types, I'm either a 2b or a 3a since most of the time the curls don't go to the crown of my head, sometimes they coil but sometimes they just do a simple "s" and I can also straighten my hair (not pin straight) without too much trouble (unless I go out in the rain.)
So let's start with the basics, Desert Essence Fragrance Free Shampoo & Conditioner:
Desert Essence Fragrance Free Shampoo | Desert Essence Fragrance Free Conditioner
The shampoo is a 2 with EWG's Cosmetic's Database, and the conditioner is a 3
This is not my be all end all perfect combo but it's what I can use daily and my hair looks good without killing me or Tim. I do want to try some of the other Desert Essence Shampoos and Conditioners but I just haven't gotten around to it yet and keep rebuying this one.
What I love about these Desert Essence Fragrance Free products :
It doesn't weight down my hair.

It doesn't build up in my hair.

You can use it week after week with the same results instead of feeling like it's no longer doing it's job after a few weeks.

I don't have what I would call "hippy hair" like I have with some other natural shampoos & conditioners (Dr. Bronner's, I'm sorry, but I'm looking at you.)

"Fragrance Free" is NOT a gimmick and scents are not masked by "light" added fragrances like some other products. There is a light light scent when sniffed directly in the bottle, but that's really from the product ingredients AND it really does rinse out. I recommend reading over the ingredients to see if there's anything you know you personally might have a problem with but this is one of the best fragrance free products I've found.
It's a good base for everything else.
No: cones (dimethicone), parabens, phthalates, paraffin, gluten, propylene glycol, mineral oil, synthetic fragrance, animal testing, PABA, synthetic color, DEA, or sulfates
What I don't like:
---
Where I would suggest starting if you don't already use a natural / organic shampoo, conditioner or other styling products – Shea Moisture kits:
Now that I've spent all of this time talking about the Desert Essences Fragrance Free line, I'm going to switch gears. If you are looking for somewhere to start in your journey for natural hair care products, I would highly recommend starting with the Shea Moisture kits. Particularly since I'm going to talk about some of their styling products from these kits that I DO use: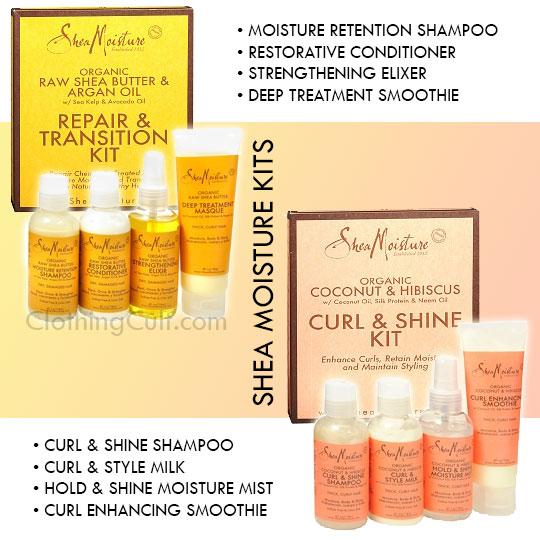 Shea Moisture Organic Curl & Shine Kit Coconut & Hibiscus | Shea Moisture Hair Repair & Transition Kit Raw Shea Butter & Argan Oil
I was able to pick both of these up at my local Walgreens. And don't worry too much about the fact that they're in the ethnic hair care section. Unless your hair is super thin and straight, I think at least a couple of products in these kits will work for many different types of hair.
Like the Desert Essence shampoo and conditioner, the Shea Moisture products are also free of: cones (dimethicone), parabens, phthalates, paraffin, gluten, propylene glycol, mineral oil, synthetic fragrance, animal testing, PABA, synthetic color, DEA, or sulfates
If these don't work for you or you have allergies or scent sensitivities I would move on to the Desert Essence Fragrance Free line.
---
Some other brands of natural / organic shampoo and conditioner that I've tried and thought were ok:
Avalon Organics:

The Lavender OR Rosemary shampoos and conditioners I've tried and are good. And after I shower they aren't intense enough to bother Tim. However when compared to the Desert Essence, my hair looks better with the Desert Essence. I haven't tried the rest of the Avalon Organics line. Rosemary Shampoo is an

EWG 4

and Conditioner is an

EWG 3
Aubrey Organics:

This line is very hit or miss. From my recollection one of my main problems with these was that there was product buildup. I needed to switch back and forth between two shampoos and conditioners to keep certain ones from weighing down my hair and others from stripping too much oil out. Some of these however would be excellent options for the more curly girls out there which is why I'm mentioning it. One of my favorites from their line is actually the Swimmer's Normalizing Conditioner for Active Lifestyles – it's a really thick and luxurious conditioner and I didn't seem to have the same buildup problem with it. I used it for awhile with the Avalon Rosemary Shampoo.
---
I tried the following were "meh" or didn't like them:
Burt's Bees: 

I wanted so much to love these shampoos and conditioners but they just did not cut it for me. I tried at least two of their shampoos and conditioners and they did nothing good for my hair. I did so just after they came out (mentioning in case they adjusted the formula.)

Nature's Gate: 

just meh. Not good, not bad for the hair just … nothing special. A little harsher on the hair than some of the others I've mentioned. Also some have parabens and some other ingredients I'm trying to reduce.

Dr. Bronner's Castile Soap:

 Serious Hippy Hair … ugh. I love this company but I just can't bring myself to use the castile soap for anything. I tried the castile soap for my hair over a period of three days once and it just never felt clean and wasn't looking good either. Tangly, ratty, hard to work with and dirty feeling. I really hate having to say this because they do make some good products and I know some people who can and do use the castile soap instead of shampoo but it just wasn't my cup of tea. Do NOT start here and judge natural hair care based on this alone.
---
Others I haven't tried but would / should:
Jason Naturals

Alba Botanica / Alba Hawaiian – I've tried practically their whole line but not the shampoo and conditioner yet

Say Yes to Carrots
Do YOU have a favorite natural / organic shampoo & conditioner that I haven't mentioned here that I should try? Have you tried any of the products I mentioned and want to share your thoughts? Feel free to post in the comments below! 🙂
---
Up Next in { My Natural Hair Series } : Natural / Organic Styling Products I'm currently using