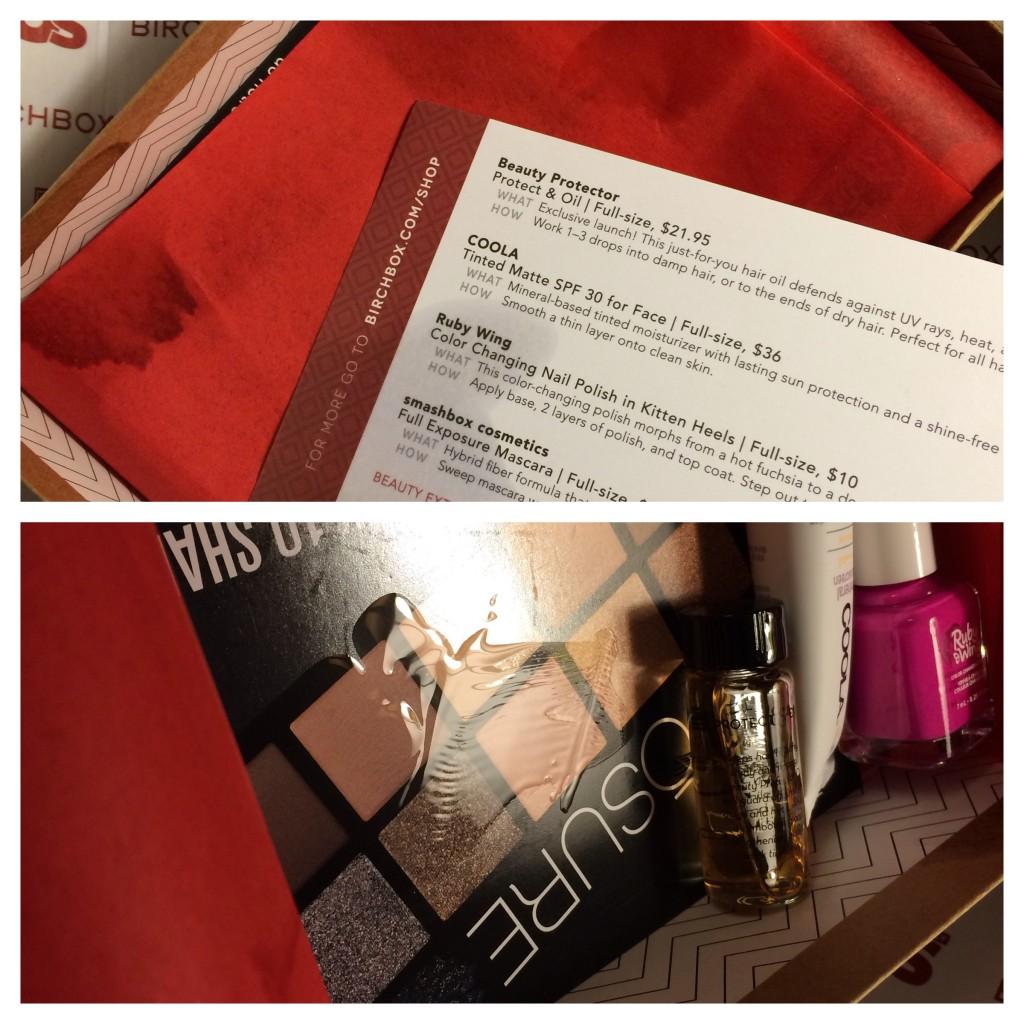 First lets start with what you can see in these photos – this is the first time I've had something leak in one of my Birchboxes. When I posted this on instagram I was told to contact [email protected] which I did and since I told them I hadn't wanted to try the hair oil and nothing else was ruined they gave me some birchbox points for the trouble.
I didn't take any additional product photos after opening this month's box and I threw out the hair oil bottle and the packaging so let's move on to what was inside. 🙂
COOLA Tinted Matte SPF 30 for Face – cones rule it out for me (allergy / breakouts.) I think I swatched this on my hand with a sample I received in the past though and wasn't thrilled. I'm never thrilled with tinted moisturizers though. Love the Coola sunscreen though and I can highly recommend that!! This tinted matte moisturizing sunscreen rates a 3 with the cosmetic database. (reminder: lower is better with 0 being best and 10 being worst with regards to being healthy.)
Ruby Wing Color Changing Nail Polish in Kitten Heels – is this 3 free? I need to do a bit more research (tiny print.) Love the brightness of the shade indoors. We'll see how this wears.
Smashbox Cosmetics Full Exposure Mascara – have to call. Not waterproof so not worth it for me. Not going to do the cosmetics database report on this one either.
Beauty Protector Protect & Oil – cones rule it out for me.  Rates a 6 with the cosmetics database so even without the cones it's a bit too high.
Smashbox Cosmetics Full Exposure Palette – Most of these don't have cones but there are one or two shades that have cones in them. Also I'm half and half on this "card" style sample. There's enough to try but not enough to play with. I can maybe do swatches on my arm ONCE and ONCE on my eyes and that's it. Yes, retail it would be $49 for the full palette so I get why they couldn't give us the full palette but this paper card seems a bit of a cop out – like something you might see for free in a magazine. Colors are good but I don't think I'm impressed enough to buy the full set. The ingredients are long and listed out on the back of the card (and nowhere online) so I'll have to come back to running a cosmetics database report on these.
---
 Still not signed up for Birchbox? 



http://birchbox.com?raf=3l3e7
{ yes it's an affiliate link, I get 50 points which equals $5 credit – share the love! }