My Birchbox January 2013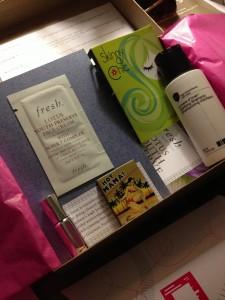 number4 clarifying shampoo – yay! Interested in trying this one
the balm hot mama – was excited about this until I read dimeticone on the ingredients – it breaks me out
fresh lotus youth face cream – dimethicone strikes again
lashem – my eyelashes are thick enough so no interest
harvey prince skinny chic – when are they going to stop sending me synthetic fragrances – I haven't even opened it and the smell coming from it is giving me a headache. They need to stop sending me fragrances already. Particularly since they aren't sending anything that's natural.
Anyone want to swap? The only one I plan to try is the shampoo. And I also think I'm going to try ipsy.
---
 Still not signed up for Birchbox? 



http://birchbox.com?raf=3l3e7
{ yes it's an affiliate link, I get 50 points which equals $5 credit – share the love! }