*************************************************
This giveaway has ended – Winner: Julie
*************************************************
EDITED – Since no one has entered any of the contests yet and I was going to end them tomorrow I've decided to consolidate them all into one prize. Winner takes all. New giveaway: This contest ends on: 11/28/2012 12:01am EST
ENTER AT THE BOTTOM OF THIS POST – Comment on the blog & entry in the giveaway form.
So I have all of these samples that have been unused and are just taking up space. Some I won't use simply because they have dimethicone in them (cones break ME out but they might not break you out.) Others I haven't used because they aren't my cup of tea (synthetic perfumes.) BUT I know that many of you might be interested in having these samples.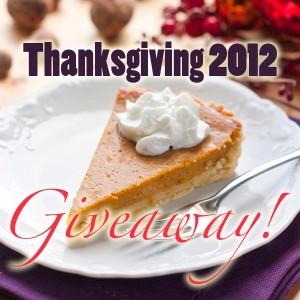 SO I'm going to do a giveaway of Birchbox samples I haven't even touched (ok, I've touched the packaging here but you get my point.)
Why is this a Thanksgiving givaway? Because I will be thankful for some extra storage space and you will be thankful to have some fun goodies. Yeah, I know, not entirely the theme of Thanksgiving (thankful for what you have) but I do really want to reclaim some storage space.
So here's how it's going to work: We have four boxes and thus four giveaways you can enter. Each person can enter all four giveaways once.
These contests start on: 11/19/2012 12:01am EST
These contests end on: 11/26/2012 12:01am EST
This contest ends on: 11/28/2012 12:01am EST
These contests are open to all residents of the continental United States (sorry Alaska & Hawaii! Shipping can get expensive!)
There are two things you have to do for an entry:
You will need to leave a comment in the comment section below describing your favorite product ever. It can be hair care, moisturizer, lipstick, whatever floats your boat. Just leave a comment on what is your favorite item. One comment can be used for all four contests.
You will need to follow the giveaway link and follow the directions to complete your entries.
The four boxes (now one giveaway) – all items are samples, not full size:
The jouer & makeup box:

Jouer Lip Enhancer Conditioning Lip Treatment
Jouer Body Butter
Jouer Luminizing Mosture Tint
Stila All Over Liquid Luminizer in Rose Gold Shimmer
Dr.Jart+ BB Beauty Balm Multi-action skin care + makeup
Laura Geller Spackle tinted under make-up primer in bronze
Chantecaille lip gloss
Colorscience Pro Sunforgettable Mineral Powder
Everyday Minerals Once & Again blush
Everyday Minerals powder foundations in: Light Medium original glo, Medium in semi-matte, Medium Beige in semi-matte, Multi-taking Neutral in matte

The hair care box:

Ouidad Moisture Lock Leave-in Conditioner
Oscar Blandi Protein Mist for Restyling Hair
Mythic Oil treatment
Orofluido treatment
DermOrganic Argan Oil leave-in hair treatment
Fekkai Advanced Essential Shea shampoo & conditioner

The moisturizer box:

Kiehl's Creme de Corps
Masqueology 7d moisturizer
Masqueology masque cleanse
Masqueology revitalizing eye gel
Sarah McNamara Miracle Skin Transformer Face & Body SPF 20
Ahava Mineral Hand Cream
Scalisi Skincare Anti-aging Moisturizer
Borghese Moisture Intensifier
DDF Wrinkle Resist Plus Pore Minimizer

The perfume box:

Harvey Prince eau flirt sample
MCMC Pheonix sample
BVLGARI Mon Jasmin Noir sample
Viva La Juicy La Fleur sample
I think that's it! One winner takes all will be randomly chosen on November 28th 2012. Have fun and share it with your friends!
Enter here: