"Foiled again" get it? Ok, that would make more sense if I had previously written about gold foiling or even any kind of gold on clothes, right?
Apparently I've been getting into golds lately. As exhibited by both some recent clothing purchases as well as nail polish choice.
Outfit Top to bottom (click images for a larger version):
Earrings: Kohl's daisy fuentes® Gold-Tone Hammered Drop Earring Set I had removed the chain portion of the coin style earrings and they look better.
Tank: Talbot's Outlet (one of my recent gold purchases) cream with gold foil streaks.
Wrap: Tabot's Outlet (in the fall) it's a heathered cream linen that's a perfect weight for spring and fall. Very versatile.
Bracelet: thrifted.
Jeans: Walmart (shhhh … why do I end up with jeans from there?)
Shoes: Lauren Conrad leopard print ballet flat from Kohl's. Loving these, they also go with a LOT.
Then there was the yoga capris I bought that had a foil leopard print pattern. This wasn't actually on purpose. It was more because I didn't like the pairs that had funky color tops and they didn't have a plain black and I had a gift card burning a hole in my pocket: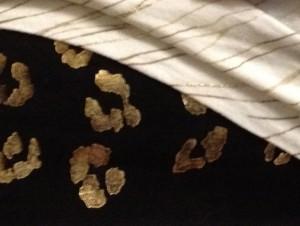 Close up of the leopard AND the Talbot's tank's gold stripes.
Then there are the nails.
Three coats of Essie in "A Crewed Interest" which is a Spring 2012 color.
Topped with a single stripe of Sally Hansen Crackle polish in "Antique Gold"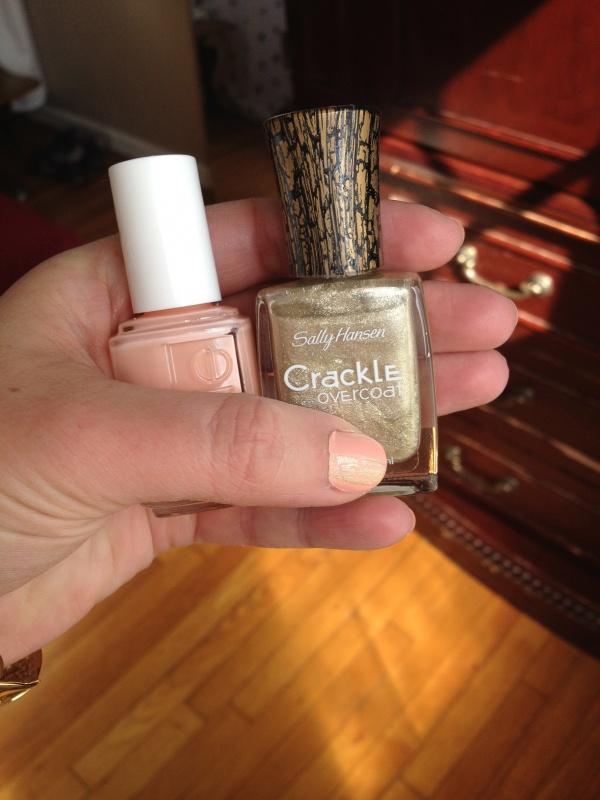 It's a nice subtle effect that reminds me of gold leaf. And the peachy pink is like a less sheer version of Zoya's Lulu. That "point shoe pink / peach" I had been looking for for years and suddenly found. Repeatedly apparently.

The gold crackle is actually a little preview of something I'm going to do a giveaway on sometime in the next month. So if you don't normally read my blog, you might want to stay tuned by either subscribing to the rss, the emails or my twitter or youtube channels!
Are you wearing more gold lately? Is this a trend or just a weird accident that I've recently purchased more than one item that was gold foiled?
Next thing you know I'll own a gold sequin mini skirt…. uhhh probably not anytime soon (though they are CUTE on other people!)