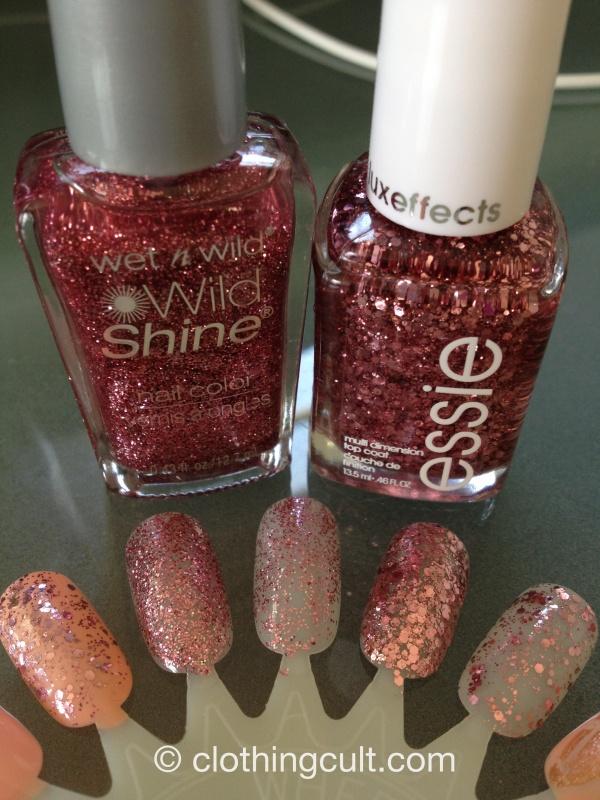 Right to Left (reverse of what you're probably used to): 1 coat of Essie "A Cut Above" then 3 generous coats, 1 coat of Wet N Wild "Sparked" then 3 generous coats, and the last one on the left is one coat of "A Cut Above" over 2 coats of Essie "A Crewed Interest."
The color is almost identical but the application is totally different. I almost would say you shouldn't compare the two and would not consider this a "dup."
If you're looking for a finer glitter I would go with the Wet N Wild but if you want a more confetti glitter look I would go with the Essie.
If I had to pick between the two and could only buy one, I would go with the Essie even though it's more expensive because it just somehow looks a bit more upscale and classier. I did however get the Essie in the March "Teen Vogue" Birchbox.
There is also apparently a Revlon color that is, based on the swatches I see online, somewhere in between the two I've reviewed here. Revlon 261-Sparkling.
And Butter London also has a pink glittery color called "Rosie Lee." B-you-tifullness via Pretty Project via High on Polish via Snappette (aka I saw it on Snappette and the source is B-you-tifullness) has a great example of a pink glitter and nude mani using the Butter London "Rosie Lee."
I did a quick little video so you can see the two colors I reviewed just a little better.