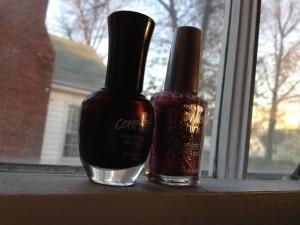 Anyway I was aiming for a wine color but it's not quite as perfect as I wanted. This is more the shade I wanted: http://dillydallas.blogspot.com/2011/11/nail-inspiration.html
But I like the idea of a pop of pink sparkle on top of the wine color. There was a dress that was inspiration for this pink and burgundy combo but now I can't find that link that. Oh well.
So here we have Confetti in 041 Masquarade Ball & Wet N' Wild in 435G Sparked. I think I want to try this with something that has a bit more red purple to it like a cabernet. Somehow this turned out looking less red than I had hoped.
I did just a quick swipe of the glittery pink on each nail and didn't cover the whole thing and like how that looks.
Click any of the photos to enlarge.