Ipsy Glambag Unboxing September 2013
In my September Ipsy Glambag:
Elizabeth Mott It's So Big Volumizing Mascara – it's supposed to be smudge proof but  I can't find anything say about waterproof and I really prefer waterproof in a mascara. Color is black and it only comes in one color. The brush shape though looks good and it's a bristle brush (instead of a weird plastic brush) so it should do a good job with making eyelashes bigger looking without clumping.I'm holding off on using this though in case anyone wants to swap (if no one is interested in it, I may try it.) It does use parabens which I prefer to avoid but it still turns out to be a 4 with the cosmetics database (lower numbers are better.) I'm a little more lenient on eyelashes particularly with waterproof since it shouldn't be on my skin. At the same time it's close to my eyes so anything that irritates also still has to go.
NYX Single Eye Shadow in Cryptonite (ES63A) – no cones yay! (for me at least.) It does have parabens, mineral oil and talc though. It's a 4 with the cosmetics database which isn't all that bad though. I may give this a shot (I could have sworn though that the last NYX product I was sent included dimethicone that ruled that out.) This is a nice shimmery looking charcoal eyeshadow that looks like it might work well for a smokey eye.
Starlooks Obsidian Kohl Eye Pencil – no cones again and no fragrance or parabens here either (yay!) – negatives, petrolatum (not natural but not unhealthy) and talc as well as carbon black …. I'm not sure about the carbon black and why that's given such a harsh rating. Anyway, cosmetics database report on this is only a 3 overall which is good. I'm not really looking for another eyeliner pencil because I'm really preferring gel eyeliners these days. Maybe because I've gotten good at putting them on and they're sharper looking. Again, I'm holding off on trying this on in case someone wants to swap for it but if there's no interest I'll give this a try myself.
Freeman Beauty Facial Paper Masks in Starfruit, Blue Agave & Rose –  They all have synthetic fragrance, DIAZOLIDINYL UREA, and coloring that doesn't seem necessary. The Blue agave is a 5 with the cosmetics database.  The Rose is a 5 as well. And wow – the one I thought would be the healthiest, the Starfruit is a 6. So no interest in even trying these personally. I want a healthier face. REALLY meh about this one.
J.Cat Beauty Fantabulous Lipstick in Honeycrisp (FL107) – this is a very nude shade of lipstick. It ended up making me look REALLY washed out (see video.) I wasn't wowed by the parabens, fragrance or mineral oil but there was no dimethicone so I gave it a shot. Someone else said that this might be a good color to use if you want a lighter version of a dark lipstick that you own. I don't really have a lot of dark lipsticks and tend to lean towards lip glosses. Though I'm open to trying different lipsticks, I've just never fallen in love with many. This one is also a 5 with the cosmetics database which is still a little high for my taste. Since I wasn't wowed I think this will be thrown in with Halloween makeup options (once a year isn't going to kill me and sometimes you need something odd for halloween.)

Bonus : EM Michelle Phan Makeup sample  blush and eyeshadow. No fragrances, no parabens, BUT dimethicone is going to keep me from using this. http://www.emcosmetics.com/
So overall this month with Ipsy I'm really underwhelmed with the products I received. I would have loved to get the Butter London Nail polish or even another Chella Ivory Lace Highlighter (already have it and use it almost daily now.)  But you win some and you lose some. The bag is cute this month and I'm using more of the bags than I expected I would. 🙂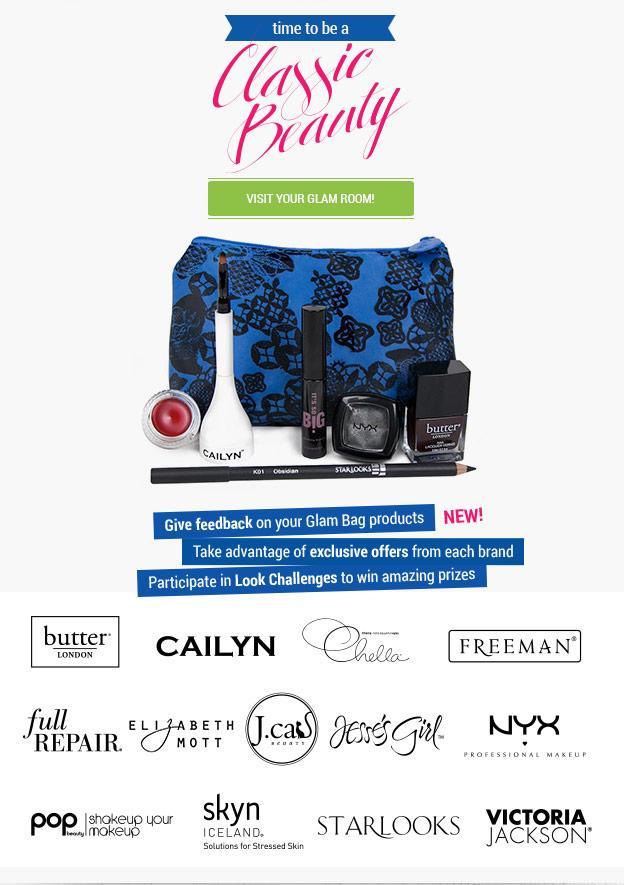 ---
Sign up for Ipsy: 



http://www.ipsy.com/?refer=u-h051sec1kqq5g8p
{affiliate link – I get 250 points which points equal products but it's still a little unclear how many points to the dollar}