I received a sample of the Amika Obliphica Nourishing Mask in the April Birchbox. I LOVE what this does to my hair. The photos are actually all the second day after using this (gallery below)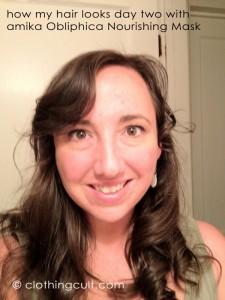 My hair was still shiny but not oily. NO additional products. No hairspray, no gel, no shine serums, nada. Just shampoo then the amika Obliphica Nourishing Mask. My hair was straight with a little more volume on the first day. Second day I decided to curl it without rewashing and this is how it looked at the end of the day.
I also LOVE that the ingredient list is all natural.
The big downside for me (and also probably the ingredient that causes the shine) – even though I rinse it out in the shower after 5 minutes, the dimethicone still seems to break me out a bit. I will give it another shot again in another week but I'm fairly certain this was what caused the couple of little deeper below the surface zits that are painful and last longer. That has been the pattern with anything that has "cones" in the ingredient list for me so I wasn't surprised.
IF dimethicone doesn't bother you, I definitely would recommend picking up this product and trying it.