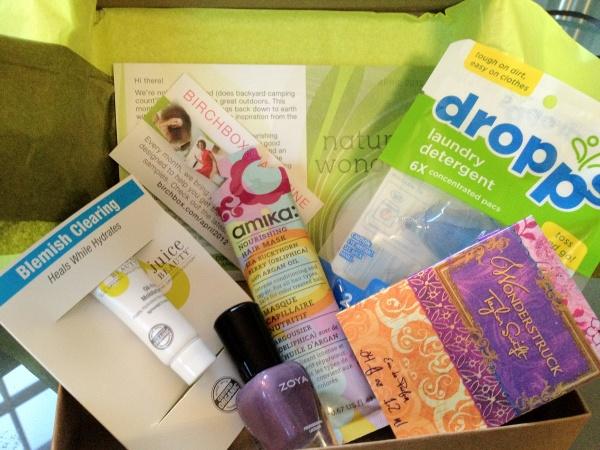 Unboxing video:
What's inside:
amika: Obliphica Nourishing Mask (see why I couldn't pronounce this!) The ingredient list looks wonderful… but I'm not sure if the "fragrance" is synthetic or from natural oils. I've sent them an email and I hope they will let me know. EDIT: They responded "We use natural oils in our products." 🙂
Juice Beauty: Oil-Free Moisturizer these products naturally have a scent. No synthetics but it's also not fragrance free (if you are someone who HAS to have unscented.) I have tried this brand before and didn't have much luck with it but I don't think I've tried the moisturizer. It feels pretty good on my hand and the ingredient list is excellent so I will give this a shot.
Wonderstruck by Taylor Swift as far as I can tell there is nothing natural about this.
Zoya: True Spring Collection in Lotus This is a shimmery yet muted purple color. I've put it on a nail wheel (what are those things called) and I'm not impressed by itself BUT I think it will be a good color to use a crackle coat or some sort of sparkly top coat on. Birchbox, if you're reading this, I lean towards jewel tones. Tru would have been a slightly better pick.
Lifestyle Extra :: dropps Laundry Detergent pacs in Fresh Scent. Haven't tried this one yet BUT big plus is fragrance from natural oils! Ingredients : Laureth – 7 (Plant derived + biodegradable cleaning agent), Polyoxyethylene oleyl ether (Plant derived + biodegradable cleaning agent), Propylene Carbonate (Processing agent), Hexylene glycol (Processing agent), Agua (water), Fragrance (derived from natural oils)
What I mentioned that I didn't get that I still want to try is the AlimaPure products. I said I was going to use my birchbox points but it looks like they are out of the berry color lip product I was going to buy and I know that the Alima site does mini samples of foundation and bronzer (not lips or eyeshadow as samples) on their website so I'll probably do that soon. Bronzer is the other thing I've been thinking about trying from them.
If you want to sign up for Birchbox, please use my referral link! (please!): http://www.birchbox.com/?raf=3l3e7