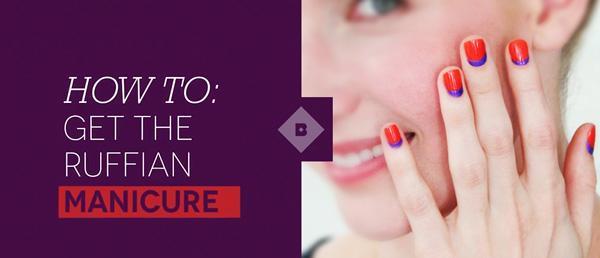 Basically a Ruffian Manicure is a reverse french manicure. Some people also might consider it a half moon manicure (though I think a half moon mani is actually supposed to mimic the moon shape you sometimes see at the nail base.) Whatever you want to call it, it's as simple … or as difficult as a french manicure!
Your color choice can really affect the outcome so I decided to give several color combinations a try to find my favorite.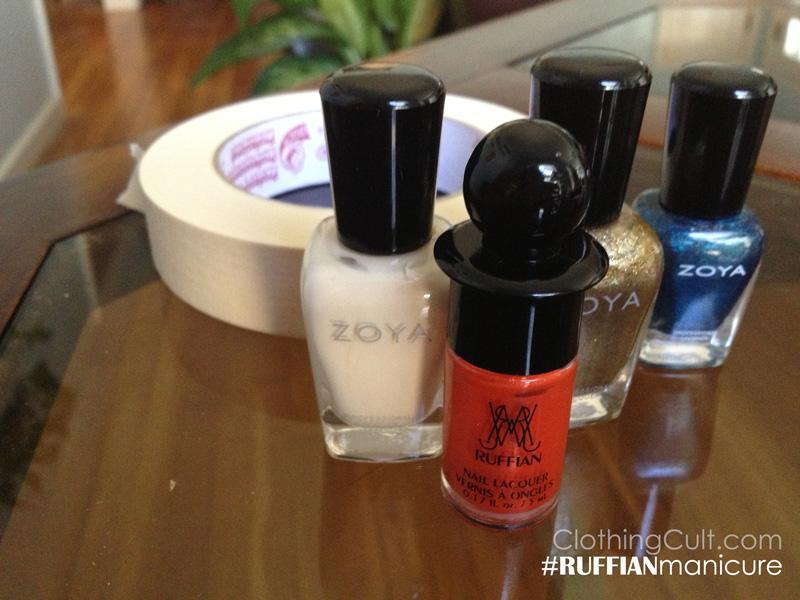 My main color: 
Ruffian Fox Hunt nail polish which is a lovely burnt orange color. It's actually very similar to about 5 other shades I own but instead of a matte, it has some goldish shimmery undertone to it making it a more fall-like shade.
Accent colors that I tried:
Zoya Jacqueline which is a neutral cream shade.
Zoya Ziv which is a super gold shimmer. More metalic looking than glittery.
Zoya Noel which is a deep teal shade.
Additional tools used:
Masking tape yup that's it. I used masking tape to tape off my nail to get the crescent shape at the base. (See photo at right.) It may not be pretty during the process but it does in fact work pretty well.
Putting your accent color on first does in fact work better than trying to put the accent color on after you have your main color on. Also you don't have to wait for your main nail polish color to dry so this is a fairly fast manicure to do.
My favorite combo I think was the Ruffian Fox Hunt and the Zoya Ziv. I really wanted the Noel to be my favorite accent color because it was the bold and contrasting choice but it just didn't seem right on my nails. I don't think this teal was quite dark enough to go well with the Fox Hunt burnt orange.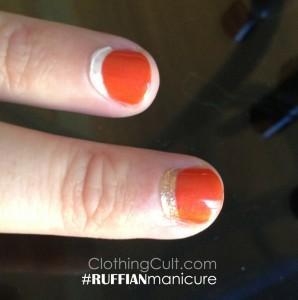 OTHER Tools that might help you achieve the crescent shape:
Painters tape (the blue kind) or french manicure stickers guides seem to work the best in my opinion.
Some people like to do french manicures with a special thin nail polish brush that is small and easier to paint a thin line with. This does require a more steady hand.
I have tried doing a french manicure before using reinforcement labels for hole punched paper. It didn't work out well because the dampness of the nail polish didn't work well with the paper labels. The label did not peel back off correctly after being painted over … peeling off either wet or dry after painting did not work for me.  If the reinforcement labels were plasticy or coated they might be the best option however. So far I haven't found reinforcement labels that were plastic however.
See more examples of the Ruffian manicure on pinterest!
Here's how Birchbox did their Ruffian Manicure:
Sorry Ruffian but in the birchbox video above it doesn't look like your round nail stickers are sticking all that well – love the nail polish though! (I distinctly saw camera angles done to avoid showing smudges in your crescent shape.) If anyone has personally used these and this they work better than they look in the video – please leave a comment!
Even if they work better than they look in the video, the ruffian stencil set is $6. My thinking… masking tape is cheap, versatile, I have it on hand and it works so I'd rather spend the money on another shade of nail polish! (Yeah I probably just disqualified myself from winning a set of nail polish for saying that… sigh.)
Ruffian Nail polishes are sold exclusively at Birchbox.com – go sign up! 🙂