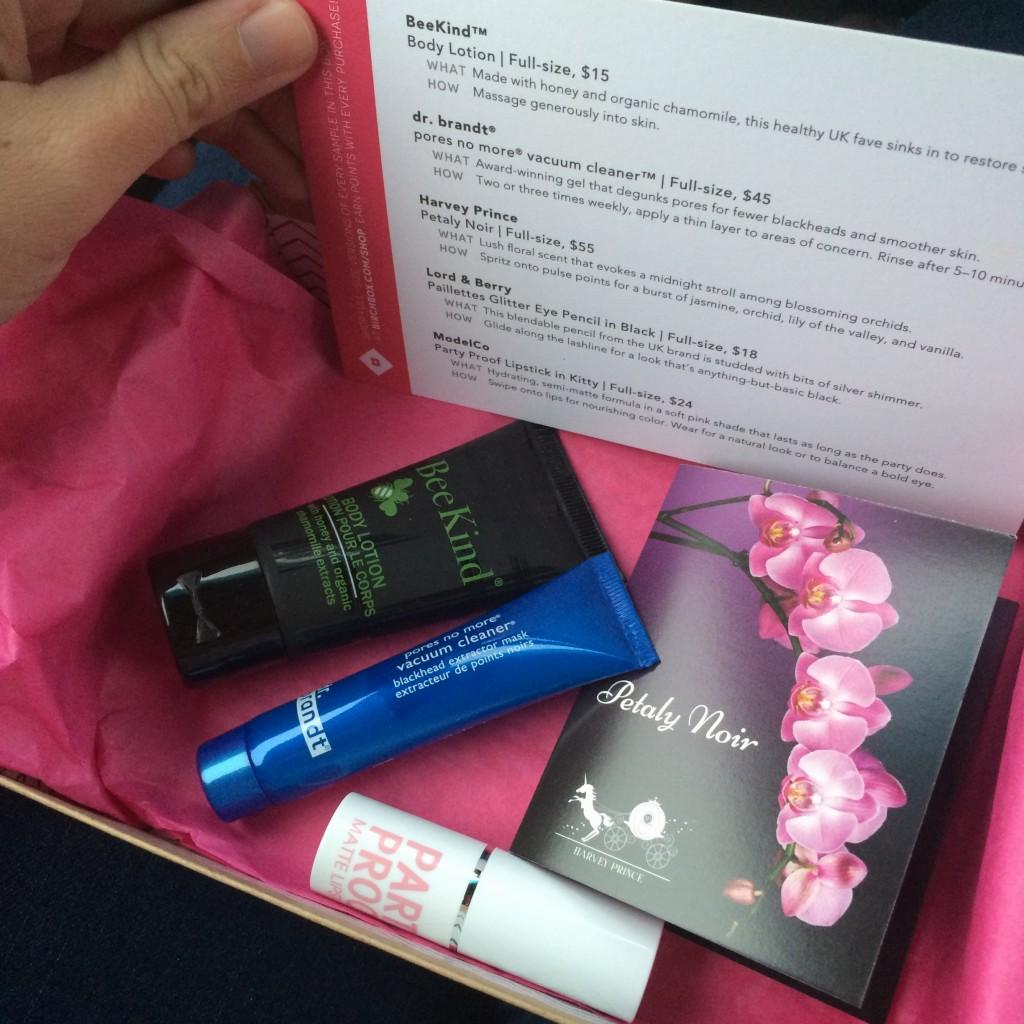 Lord & Berry Paillettes Eye Pencil soooooo this was the item I picked out this month and somehow it wasn't in my box. I posted a photo on instagram and did contact Birchbox customer service and they're shipping one out to me but it will be 10 days before I might get it. So without having it in hand to review let's look at why I chose it. It doesn't have cones (I break out with cones) and some of the other nasties I normally see. However I missed the parabens when I was checking this out and choosing it. So lets see how this scores with the EWG skin deep cosmetics database scores it. OUCH. Wow. I did horribly in picking this out. It's a solid 10 from the cosmetics database. On a scale from 0 to 10 with 0 being the healthiest. UGHHH! And I thought this was going to be maybe a 4 based on skimming through the ingredient list and was the product I was most looking forward to trying!

Harvey Prince Petaly Noir – nope. Just no. No synthetic fragrances for me. Worse, I can smell the Harvey Prince perfumes just by opening the box and they typically give me a headache without opening them. I REALLY really hope that Birchbox will give us the option to opt out of perfumes. I particularly dislike the Harvey Prince products they have been on a roll with sending me each month too. September I complained about this. August same complaint. You aren't going to win me over. Headaches just make me mean. Stop it. Pretty please?

ModelCo Party Proof Lipstick in Kitty – well another I had high hopes for but it fails. No cones but there's fragrance. Also one of the ingredients that isn't harmful I tend to avoid and that's mineral oil. So with the EWG cosmetics database rating of a 9 I don't think I'll be trying this one. Do you know how much lipstick/lipgloss you accidentally eat? Ew.

BeeKind™ Body Lotion – The website claims "The BeeKind™ Collection features Gilchrist & Soames' Signature formulations, which contain no parabens, phthalates, petrol-derived ingredients, mineral oil, urea, DEA, TEA or propylene glycol." The bad news for me is that it has dimethicone in it which rules it out for me. Since I couldn't find the ingredient list online I typed it up from the back of the sample:
INGREDIENTS: water; ceteryl alcohol; cocos nucifera oil; glycerine; ceteareth 20; helianthus annuus seed oil; parfum; dimethicone; honey; trifolium pratense flower extract; calendula officinalis flower extract; chamomile recutita flower extract; Cymbopogon schoenanthus exctract; citric acid; glyceryl dilaurate; steric acid; benzyl alcohol; dehydroacetic acid; acrylates/ c10-30 alkyl acrylate crosspolymer; sodium hydroxide; tocopheryl acetate; citral; citronellol; geraniol; hexyl cinnamal; limonene; linalool
If they dropped the added fragrance that would do a lot to make this a healthier product. Despite all of the things it doesn't have in it, it's a 4 with the skin deep database. This is not terrible but it's also not as healthy as they might be leading you to believe.

dr. brandt® Exclusive Clean Up Nice Kit – This is actually just "pores no more cleanser" as the sample. Paraben, paraben, paraben. If they just went with a healthier preservative this would be a healthier overall product. As it is right now it's a 6 with the ewg cosmetics database.
---
So I'm a little underwhelmed with the products in this month's box. Since Birchbox started giving us a choice of one product in our boxes I can't believe I picked something that unhealthy out of what was available (and I can't remember what the other options were.) Anyway…
---
 Still not signed up for Birchbox? 



http://birchbox.com?raf=3l3e7
{ yes it's an affiliate link, I get 50 points which equals $5 credit – share the love! }
---