Many of the eyelet dress outfits that caught my eye recently have been white eyelet dresses paired with jean jackets. Others were bright colors or navy. I've managed to round up quite a few for you &  included both inspiration as well as links to a lot of dresses available for the Spring & Summer 2013 season. 🙂
Eyelet Dress Outfit Inspiration: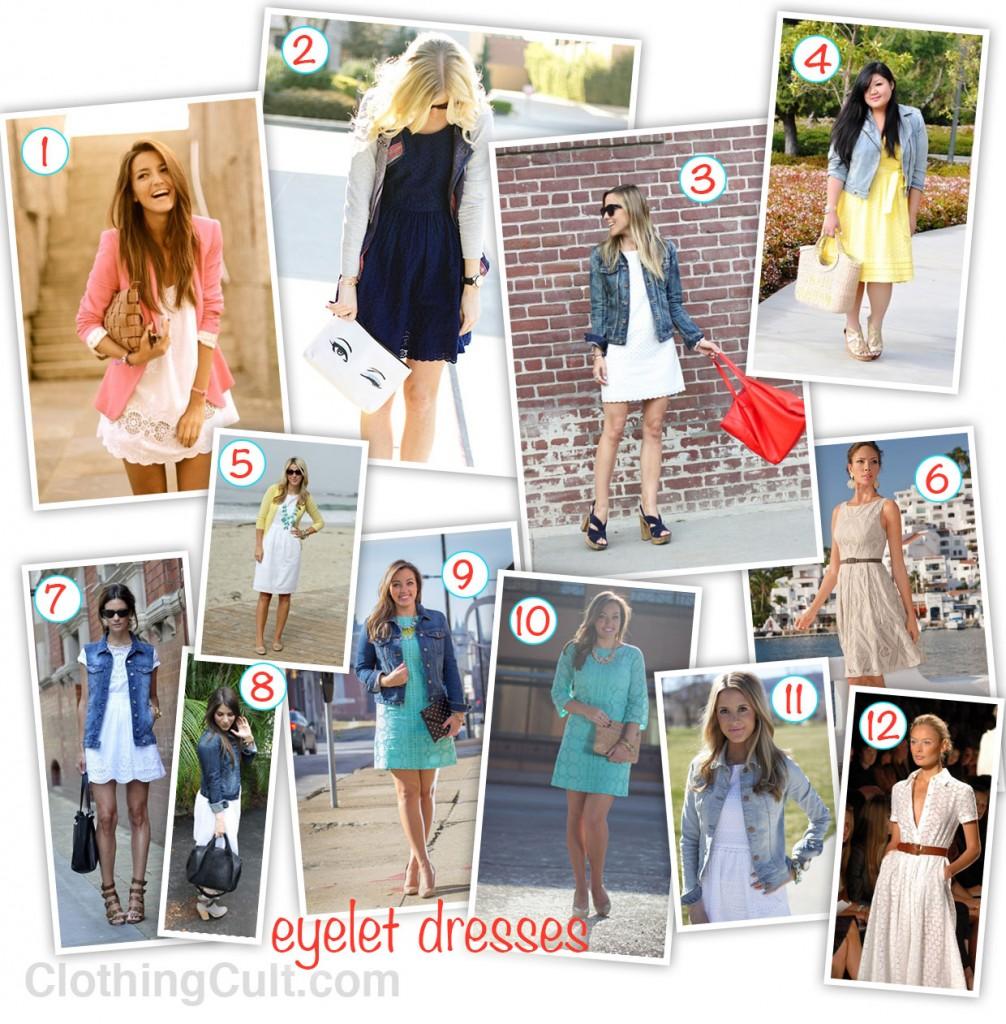 found via pinterest and no longer linked correctly

A Piece of Toast blog

 Sally in the

Old Navy eyelet dress 
Damsel in Dior blog

in an Old Navy Dolman eyelet dress (no longer available)

Curvy Girl Chic blog

in Torrid eyelet party dress (no longer available)

found via pinterest but linked to a site that was obviously not associated with the image

A Piece of Toast blog

(original source unknown)

Sharing my Sole blog

in

London Times eyelet shift dress
Sharing my Sole blog

in the same dress as 9 styled differently

Ivory Lane blog

in J. Crew (no longer available)

Michael Kors Shirt Dress from 2012 (no longer available)
The main contenders – eyelet dresses from Old Navy & Anthropology:
Below: Old Navy Women's Mixed-Eyelet Dresses
For just over $30 this is an excellent dress with lots of bright spring & summer color options:
http://oldnavy.gap.com/browse/product.do?vid=1&pid=386306012

Below: Anthropologie Sunstream Eyelet Dress for $128
http://www.anthropologie.com/anthro/product/clothes-dresses/26851055.jsp?color=059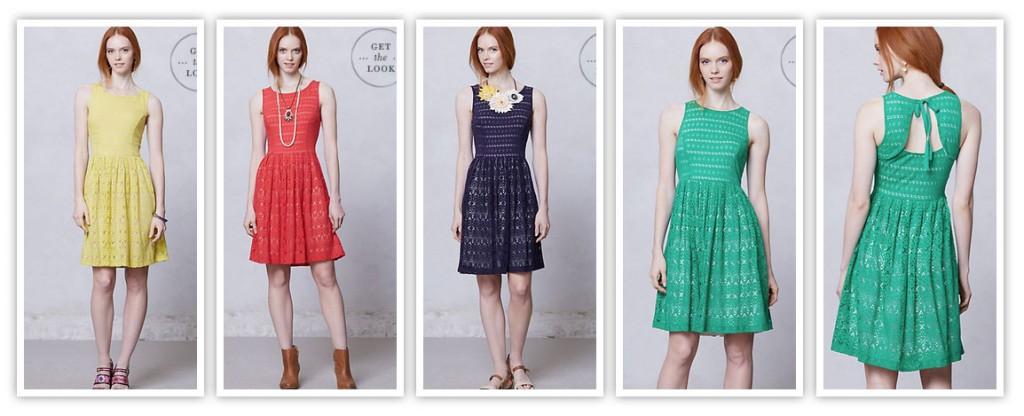 Even more eyelet dress possibilities:

(1)Ann Taylor Loft Flower Eyelet Cotton Dress  (2)Lilly Pulitzer Sandrine Dress  (3)Lauren Ralph Lauren Eyelet Dress  (4)Shopmamie Iris Eyelet Dress in Royal Blue  (5)Forever21 Fit & Flare Eyelet Dress  (6)Old Navy Women's Eyelet Tube Dresses  (7)Vince Camuto Lace Fit & Flare Dress  (8)Laundry by Shelli Segal Strapless Dress – Eyelet Fit & Flare  (9)French Connection Orient Eyelets Dress  (10)Jessica Howard Sleeveless Belted Sundress w/Shirred Skirt & Open Back  (11)Ann Taylor Loft Petite Floral Eyelet Sleeveless Dress  (12)J. Crew Circle Eyelet Dress  (13)Kensie Eyelet Dress in Mint  (14)Madewell Eyelet Trail Dress  (15)MICHAEL Michael Kors Eyelet Panel Sleeveless Dress  (16)Nine West Dresses Women's Eyelet Crossover Bodice Full Skirt Dress  (17)Matty M Lace Sheath Dress  (18)Anthropology Grass Court Dress  (19)Forever21 Fit & Flare Eyelet Dress (shirtdress style)
The evasive eyelet dress but too cute not to mention: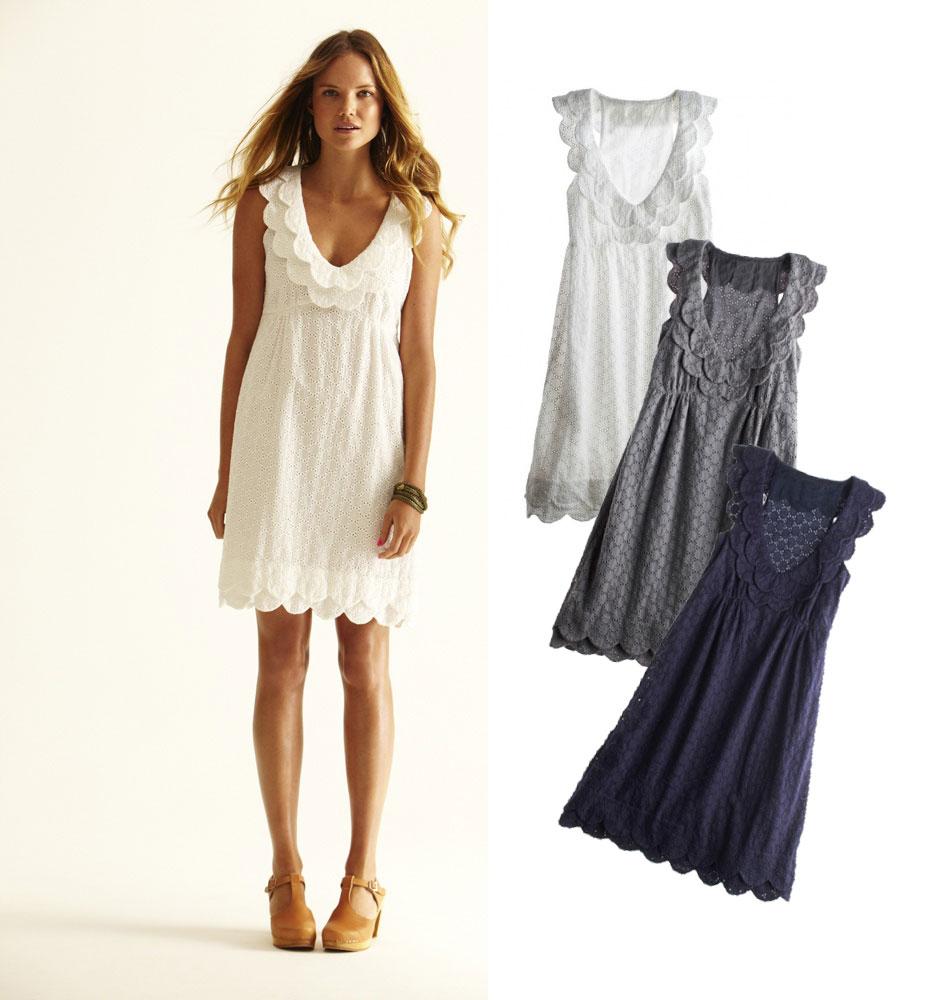 Shireen Eyelet Dress from Calypso Celle: This dress just kept popping up on Pinterest. Repeatedly. In different colors. And it's really cute. Too bad the seller, http://calypso-celle.com,  doesn't seem to exist anymore. Link included just in case they somehow come back online (though I don't think I would trust an ecommerce site that's been done as long as this one has….)
But maybe you could find it in a boutique … it looks like they sell to small stores based on this photo. Really this is my favorite of the dresses which makes it really frustrating.
Anyway – hopefully this gives you some outfit ideas and also helps you find some of the available options for eyelet dresses this Summer 2013!
Note: NONE of the links in this post are affiliate links. I was shopping for an eyelet dress myself so I thought I would share. If you like what you see don't forget to pin it or share the link!
Tweetable! http://clicktotweet.com/f60X8
Click the tweetable link to share this blog post quickly on twitter.
There is a preview so you can make alterations before it posts.