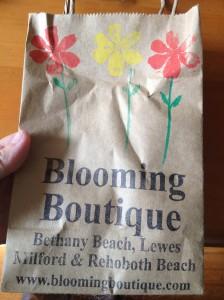 This is one of the other items I picked up at Blooming Boutique in Rehoboth Beach DE in early August. Mud Pie Navy Geo Mod Tie Tank Dress (#810232S)
It's a really nice versatile dress. Easy to wear because it's stretchy and it can be dressed up with the right shoes and a cardigan but it's also very comfortable and casual enough to, if you wanted to, wear it as a beach coverup.
I actually tried this on early in the week, liked it but didn't know if I really needed a dress but then ended up spending the week looking at other dresses and comparing it to this one. So I finally went back and bought it (though it took me a bit to figure out where I had tried it on at.)
I have worn this with the navy wedge sandals I got at Payless and a white cardigan to a meeting. The ends of the ties have little gold metal toggles.
The only thing I wish were a little different were the cut in the back on the shoulders, it could be a little wider to more easily cover regular bra straps. Would be better with a racerback bra (or again, cover with a cardigan if you're worried.) 
Again with the preppy pattern, it reminds me a bit of the greek key pattern.
REALLY really happy with this purchase.