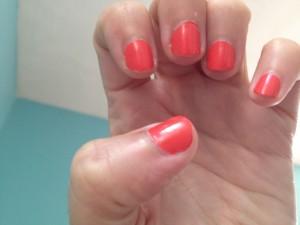 I absolutely LOVE this color for summer. The one problem however is that it chips quickly.
I've tried several different base coats and several different top coats. 2 layers of nail polish, 3 layers. Every time is seems to last maybe 3 days tops before starting to look really bad.
Most of the other Essie polishes I've tried last about 5 days and even then they don't deteriorate so quickly. So if anyone knows of another color that looks the same but last longer I would love to know!
Correction: It's "Boat House" and I've found a nail polish to replace it with I think!