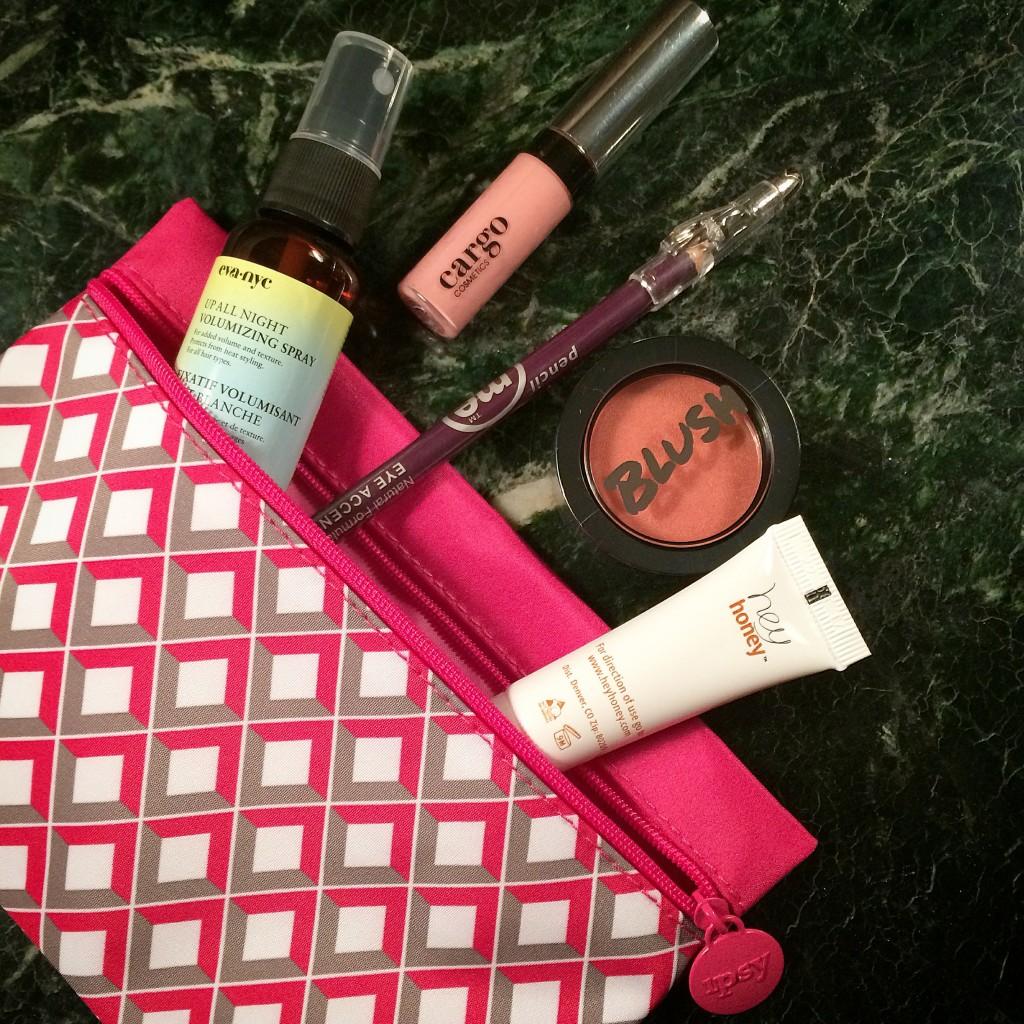 CARGO Cosmetics Mini Lip Gloss in Anguilla – no cones, no fragrance added, no parabens. I have high hopes for this one and it's not too bad at a 3 with the EWG skin deep cosmetics database. I'm looking forward to trying this one and it's a really nice basic shade as well that looks like it would work well with a lot of skin tones – very neutral but maybe a little bit light depending on how opaque it ends up being.

Eva NYC Up All Night Volumizing Spray – dimethicone rules this one out for me. It also has fragrance though and diazolidinyl urea (formaldehyde releaser) though and this ranks a 7 with the EWG skin deep cosmetic database so I wouldn't want to use this anyway.

Hey Honey Take It Off! Exfoliating Honey Peel Off Mask – the only negative ingredient I see on the list here is fragrance. Since all the other ingredients are all natural I decided to go see if I could find anything on the company site that might indicate natural or essential oils used as fragrance instead of synthetic (ingredient labels have certain requirements and lump all "fragrance" under the same label.) While they do have a very thorough rundown of the ingredients, fragrance is not specifically addressed in any of the main sections that would or could normally address this. Thus I'm going to have to assume it is in fact a synthetic fragrance. That said, there are some other ingredients that are "harmful" according to EWG that are included because this is in fact an exfoliating peel. A peel SHOULD take off some layers on purpose but because of some of the ingredients, it gets a higher score even though I would still consider this a fairly healthy product. It ranks a 5 with the skin deep cosmetics database. This is why I always take the EWG scores with a grain of salt. I'm going to give this one a shot … after sniffing it to make sure the scent isn't going to trigger my sinus allergies of course.

ModelCo BLUSH Cheek Powder in Peach Bellini – no cones, no fragrance, no parabens. But it does have paraffin and talc … neither of which feels right on my skin anymore for some reason. BUT this ranks pretty well with the cosmetics database at a 3. So although I probably won't be trying this, it is healthy. Also another reason I typically don't jump for joy over blush is that I have naturally rosy cheeks so I tend to stick with bronzer. Blushes tend to make me look a little …. overdone or clown-like and that's not even about the quality or shade but my own skin. It IS however a really nice shade so if blush is your thing you might want to give this one a shot.

"Pencil Me In" Cosmetics Natural Eye Liner Pencil in Amethyst (purple) – no cones, no fragrances, no parabens, everything is looking good. But apparently vitamin A brings this one's score down – it ranks a 4 with the skin deep cosmetics database. This is yet another score I'm going to take a grain of salt. I'm going to try this product especially since I don't think purple is going to be a shade I wear daily.
And the bag this month is super cute. 🙂
---
Sign up for Ipsy: 



http://www.ipsy.com/?refer=u-h051sec1kqq5g8p
{affiliate link – I get 250 points which points equal products but it's still a little unclear how many points to the dollar}