If you're a birchbox subscriber, be sure to be on the lookout for an email giving you a choice on your October box (check those spam folders if you don't see it soon!)
You can choose to get a special Goop box
or the regular October box.
(More info below the screenshot of the email)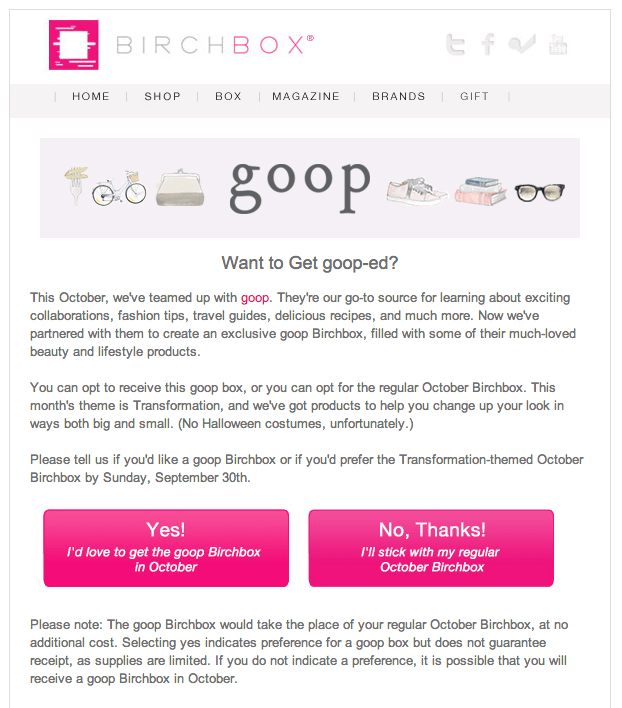 What is Goop? Goop is Gwyneth Paltrow's "…weekly publication delivered straight to your inbox offering exclusive limited edition collaborations, recipes, travel notes, shopping ideas and wellness tips for you, your wardrobe and your home."

Ok so it's not only Gwyny's deal, there's a staff and writers and such. And yes, the products on the site are out of the average person's price range. It's been called a site for spoiled white rich girls actually.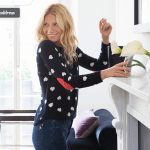 That doesn't keep this $515 cute heart cashmere sweater from being cute though. WAY out of my price range but still cute. $200 and I might start thinking about it as an investment piece … but it's too casual for work so probably not still. But that's besides the point. No wait, actually that IS the point.
This is exactly why I want to make sure I get the Goop Birchbox.
Who knows what kind of fabulous goodies it might hold!
So be sure to look for it in your email if you're already a Birchbox subscriber. I think the only way to opt in for this box is to click on the link in your email. If you're not seeing the email, check your spam folder.
If you're not already subscribed to Birchbox I'm not sure if you will get the option on sign up but it's worth a shot. Sign up for Birchbox! (referral link):
http://www.birchbox.com/?raf=3l3e7
Oh also to note … apparently supplies are limited so act soon. This is the email confirmation I got (grumble):