So I was running low on my Everyday Minerals base. Really low. And since I have to buy  two different powders and combined them to match my skin (about a $30 minimum order) AND I have to wait for the shipping… I decided to try and find something quickly at the grocery.
What I wanted: Something that might serve as a quick in a pinch substitute and maybe to throw in my gym bag. Something that wasn't going to kill me with chemicals either. No talc, no cornstarch, no parabens, no petroleum or mineral oil.
There's not a lot at the grocery that fits those requirements. Even many of the powders labeled "mineral foundation" had toxic junk in them OR had something I know would break out my skin (cones like dimethicone. Dimethicone is a safe ingredient but it clogs my pores quickly for some reason.)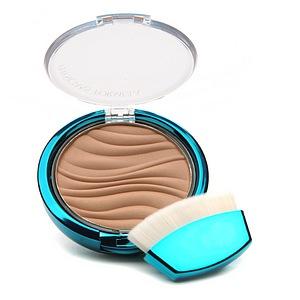 What I found was Physicians Formula Mineral Wear. Not the loose powder. Not the cream foundation. Both of those had junk in them. The plain pressed powder, spf 30, "16 hour airbrushing finish." It's pressed into a sort of wave pattern in a metallic aqua case. Don't be tricked into thinking that because they have one good product that the rest of the Physicians Formula line has healthy ingredients too.
I bought beige. There were two colors available at the store.  There are apparently 3 colors available total. If they don't work with your skin tone you're SOL. It appears to me to blend pretty well though. I put it on my arm both the top and the bottom (which are different shades from being outside … plus I have freckles) and it held up to not looking too out of place on both sides.
Cost: $11.99+tax
Cosmetics Database gives it a 3.
Active Ingredients: titanium dioxide (15%), Zinc Oxide (10%)
Inactive Ingredients: Mica, Zinc Stearate, Tricaprylin, Boron Nitride, Lauroyl Lysine, Camellia Oleifera Leaf Extract, Chamomilla Recutita (Matricaria) Flower Extract, Ginkgo Biloba Leaf Extract, Panax Ginseng Root Extract, Carthamus Tinctorius (Safflower) Seed Oil, Tocopheryl Acetate, Retinyl Palmitate, Magnesium Silicate, Chlorphenesin, Potassium Sorbate, Sodium Dehydroacetate, May Contain:, Iron Oxides, Titanium Dioxide
Click on any of the images below if you would like a closer view. All photos taken after a week of regularly wearing the Physicians Formula Mineral Wear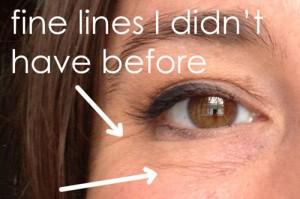 First impressions (first 10-15 minutes): Color works on my face. Better after I've added bronzer. It's a little light for my skin otherwise. Coverage is not as good as Everyday Minerals and a little more obvious that I have powder on but it also doesn't scream or look caked on. I think it's a bit drying because suddenly I have some super-fine lines where I've never had any before. At least not regularly (if I don't sleep and drink too much caffeine it's been known to happen.) There's no obvious makeupy smell to me which is good.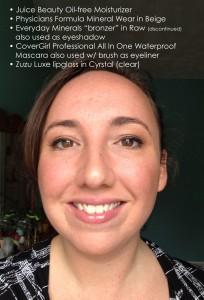 It's the fine lines that already have me thinking that this is not something I want to wear daily. I'm not worried about natural wrinkles but I don't want the products I'm applying to my face to start creating them at a rapid rate.
2nd DAY, applied my homemade moisturizer before the powder. Still dry feeling. Still creates little fine lines near my eyes. When I go to take it off at night my skin is flakier than usual. I suddenly realize this basically has retin-a in it which is sometimes used to treat acne. :/ I'm not sure but I want to give it a few more days.
After a day of wearing it: Well it stays on well. It doesn't cause my skin to get oily. In fact still the opposite. Still dry at the end of the day.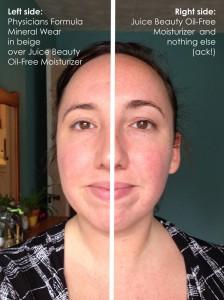 3rd DAY, different moisturizer before applying it (Juice Beauty.) Trying to find the right combo. I don't think I've ever felt my face this dry feeling this consistently. I don't really like it. I think my face skin cells are turning over faster though which I'm thinking might be a good perk. Still dry feeling at the end of the night and now I seriously need to exfoliate. More than usual. I think what I dislike about this most is what it does around my eyes … how dry it makes that area even with moisturizer. Maybe I'll apply something else around my eyes tomorrow. I don't think more moisturizer is going to cut it.

OVER A WEEK:
Verdict. It's really drying for me. This might be a good thing for some. If you have crazy oily face or acne I would give this a try. I have combination skin (usually … I still feel dry now without makeup on after a week of using this.) The color is good. It covers and evens out the skin blotchiness but I really seriously prefer the everyday minerals over this. I DO like knowing of at least one drugstore brand I can use in a pinch however.
I think I might keep it around and use it for my T zone on certain occasions  like if I think I'm going to have a long day or might have my photo taken.