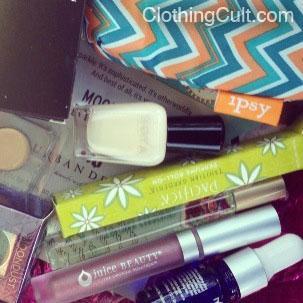 In my May Ipsy Bag – (a cute chevron makeup bag!):
yaby concealer refills in Buff

Zoya Nail Polish in Jacqueline

Pacifica Roll On Perfume in Tahitian Gardenia

Juice Beauty Reflecting Gloss in Pink

Nume Finishing Serum

BONUS – Urban Decay Moondust in Zodiac
My May Ipsy Glamroom: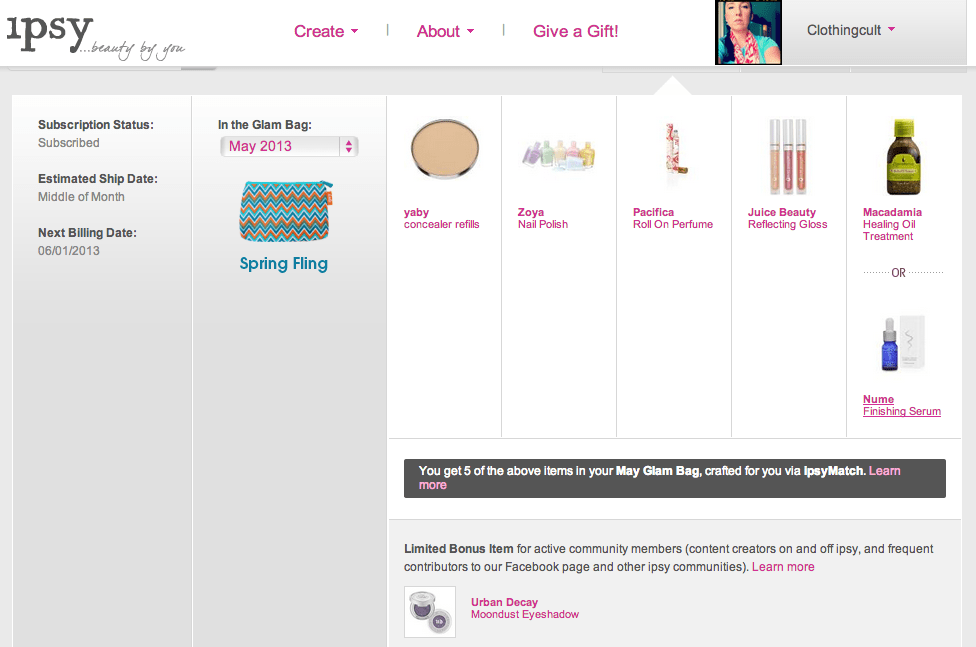 My May Ipsy bag items in more detail review:
yaby concealer refills in Buff – well the color looks like it's the correct shade but with cyclomethicone (cones!) and talc I'm not really interested in it. Mostly the cones keeping me away (yeah, I'm sure if you read regularly, my comment about cones causing breakouts for me has become annoying.) It however ranks a low 3 with cosmetics database which was surprising and a pro for it. 





 0/5 stars
Zoya Nail Polish in Jacqueline – love zoya. This is "5-free" and the shade is quite surprising. I wasn't sure I liked it at first but after I put it on it grew on me quickly. It's not a shade I would have chosen but I really like it. It's very opaque and it's almost a very subtle ivory-ish eggshell shade. It's hard to describe and it's also hard to get a great idea from pictures. It's elegant and I think it will be a versatile shade.  




 5/5 stars

Pacifica Roll On Perfume in Tahitian Gardenia – I already own this and I love it. I don't mind getting a second one! Love love love this company because they are one of the few that makes wonderful natural perfumes that don't make you smell like a hippie and aren't over the top expensive. No they aren't drugstore cheap but they are worth every penny. I keep meaning to do a post on the scents I have bought from them. The roll on bottles are great for travel. The Tahitian Gardenia is a rich soft scent – not light, more deep and calming. Floral notes but not teen girl and surprisingly even though I have a hard time with some florals (even natural) this one seems to get along with my sinuses. It does have a vintage-ness to it. Older, more sophisticated. 





 5/5 stars
Juice Beauty Reflecting Gloss in Pink – ANOTHER winner. I double checked the ingredients just in case but this is perfect. No dimethicone, all natural organic. Nice subtle color with that touch of pink and shimmer. Not glittery. It's a little lighter and a little more neutral than some of the other pinks I've bought lately. I think this would work well with a variety of skin tones. It's is maybe a teensy little oily feeling but it feels like it stays and nourishes your lips. I still like the zuzu luxe and burt's bees just a little better particularly since they have a wider range of colors but I almost feel like this will be my go to lip gloss in winter. 





 5/5 stars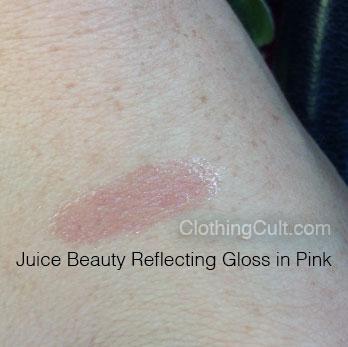 Nume Finishing Serum – fail (for me at least.) It's only a 3 with cosmetics database (mostly due to "fragrance" being an 8 on it's own) but "DIMETHICONOL" is basically another cone in disguise. :/ If you don't mind cones, I suspect this will tame flyaways and be excellent against humidity, just feels like it would do what is says it will. Also even if I didn't break out I would still likely avoid regular use because cones aren't good for hair either over time. (I swear I'm going to do a longer post about 'cones' soon and just link to it instead of repeating myself so much.) 





 0/5 stars
BONUS Urban Decay Moondust in Zodiac – This was apparently a bonus item for ipsy community members who are content creators (who knew!) You know how I feel about dimethicone however. BUT the shiny shimmery uniqueness has me intrigued. Since it's eyeshadow and I don't think I've ever broken out close to my eyes (and hopefully this won't be a shade that migrates) I'm thinking about giving this one a go. It's such an awesome shade. 





 3/5 stars … I really can't make up my mind on this one.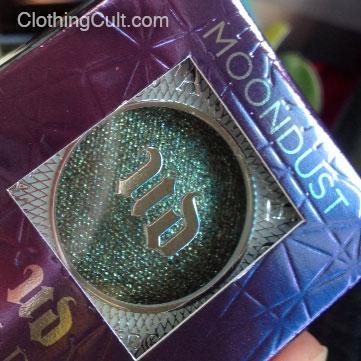 At $20 a pop (and I did receive a full size sample) this is possibly the most expensive eyeshadow I've owned in awhile. Since I only got one color and was curious about the other colors (and to see if swatches would help me make a decision on the dimethicone breakout risk issue.) I came across this excellent video that shows the different shades and swatches. It kinda makes me want Space Cowboy. I'm about 90% likely to give this one a shot… we'll see. If I do use it I'll post some photos of it on and swatched.
May Ipsy Bag total score:





 3/5 stars overall. But I REALLY REALLY liked several of the items in my May Ipsy bag. And should I start counting the bag? I don't really use the bags but this one was really cute. I might have a thing for chevron lately though.
Oh and I almost forgot – the Nume Coupon Code:
I should upload the unbagging video I did soon. There was also a coupon code on a card for numeproducts.com/shop
I was thinking that their styling products were going to be super super expensive if they were offering a $110 discount and a free heat protector. I was right. However there was one hair straightener, the mini, that would have been cheap with the discount but it said it was backordered. I decided to give it a try. … It won't let you backorder it. When I clicked checkout I just kept being brought back to the checkout page with a warning at the top that the item was out of stock. Can't order something that's out of stock even if you're willing to wait for it. Which makes the other products that the coupon code qualifies for STILL over $45. :/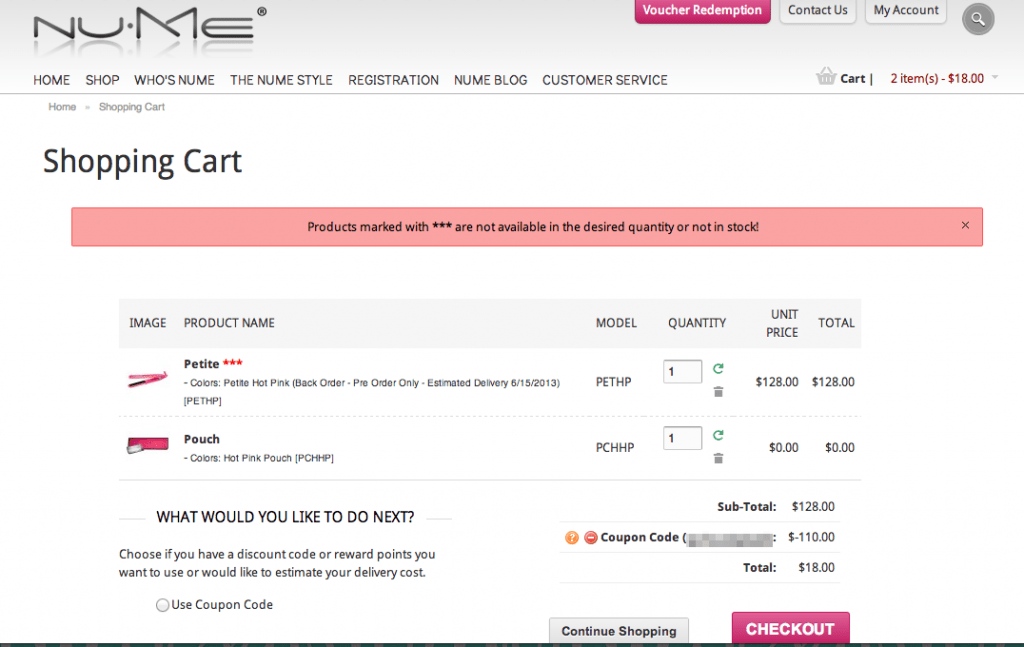 Has anyone tried their styling tools? I haven't looked for reviews yet. I'd want mega reviews before I forked over the amount of money (even WITH a discount) that they are asking for their styling tools. I think the most expensive styling tool I've ever bought was … $60?