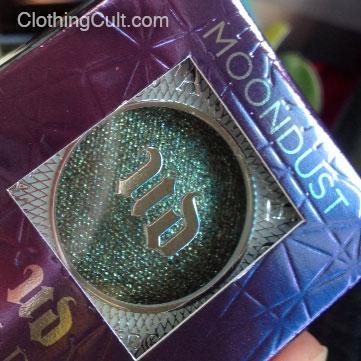 Urban Decay Moondust Eyeshadow in Zodiac is a very complex neutral shade. In daylight the swatch looks more subtle but in artificial light the shimmer really pops. I couldn't really capture this with photos so I decided to swatch it on my hand and do a video. It was a wet application of the eyeshadow in the video. When applied dry it's much lighter and can be used more subtly.
Swatch video of Urban Decay Moondust Eyeshadow in Zodiac with in both natural and artificinal light:
I have included below some photos of both wet and dry applications on my eyes both in natural light as well as in my bathroom. (Nitpicking my up close photos – I don't think anyone should ever be this close to my eyebrows but in the photos you get to see that I need to clean them up a little. Also a few photos it somehow looks like my eyeliner isn't applied all the way down even though it is.) In photos: Everyday Minerals powder foundation, Mica Beauty liquid liner, Covergirl Waterproof mascara in black. That's it. No other eyeshadows applied.