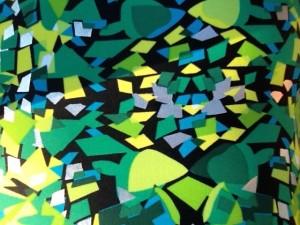 I ended up going back by Marshall's looking for a swim suit. I had found one there before my beach vacation at the beginning of August that I hadn't committed to because it was a bit of a risk with so much white in the fabric pattern. I still wanted another one piece suit just in case something happened to what I had been wearing and if it was still around I was going to buy it.
When I went back, I didn't find it BUT I did find two other swim suits for $5 EACH. One of which was a Nike Spiderback one piece (pattern above) that would normally be about $78 (the Marshall's label said it was originally $100 but I checked the Nike website.) The other was from a brand called St. John and the pattern was pink with flowers and had a sort of Lilly Pulitzer look to it. The ruched front looked odd on the hanger but fine when filled with a body. I actually picked it up because it looked out of place on a size 16 hanger. It turned out to be a size 6 that somehow fit me (a little tighter but NOT a size I can normally fit into whatsoever.)
Both suits suitable for swimming laps. No water flow issues or straps that would threaten to fall down.
---
Also after the beach vacation, I wanted a different purse. A cross body that I could throw my wallet, phone and keys in quickly because my purse had been such a nuisance playing putt putt and going a few other places (and the shorts I had been wearing for some reason didn't have pockets.)
I initially set out to find a purse to add to my travel stuff. The purse on the left would have suited that purpose. Cute, small but big enough for the essentials.
However the purse on the right was actually just large enough to fit all of the contents of my purse in and the strap was adjustable enough that I could use it on my shoulder or make it longer and wear it cross body. So I bought it and replaced the black purse that had too many pockets and beautiful (but slightly squeeky) hardware.
The purse on the right also reminded me for some reason of a Dooney and Bourke purse… but much cheaper at around $20. I bought it at Kohl's and you can find it here: Nine & Co. Sweet Sophistication Cross-Body Handbag (and I think it looks better in person than their photo.)
I've had it for almost a month and been really happy with it. Granted one week I didn't leave the house because I messed up my back but that's another story for another time. Totally unrelated to both the purse AND the swimming but it's why I haven't been posting all of these things!