Clothing and Beauty related from the box:
Giovanni Cosmetics Shampoo and Conditioner with argan oil and brazilian phyto-keratin: ingredients look good and it's a decent natural shampoo and conditioner. However my hair was not as frizz free as my other natural shampoo and conditioner, I had to put more product in post shower to get it tamed. That said, if you're still searching for a good natural shampoo and conditioner that works with your hair, I would give this one a try.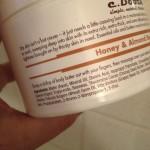 C Booth Body Butter: second ingredient is mineral oil. Not natural, pass. Tired of companies pretending to be natural by throwing some popular ingredients into their products and calling it a day.
Berry Plus Laundry detergent: looks good, very different. All natural and definitely going to try this one out. Concerns would be scent (even natural) and if they will cause any allergies to act up. I don't think so but it's always something I think about. All my laundry soaps are natural and unscented.
Seer Outfitters $10 off clothing:I've never heard of this company but it says "100% of the profits go to support organizations and causes throughout the country." $10 off just doesn't make sense on this on so many levels. Shipping is $5 so it basically makes a tshirt $20. Are they cotton? Poly? Blend? Organic? Oh wait, some shirts have that info and others don't (blend.) Sizing? The FAQ says "check out our size chart HERE" and there's no link. Just not jumping up and down over this.
---
In non-beauty product items, a few little comments:
Funky Monkey Jivealime: TASTY!!! Love it. SO glad I got one without bananas (allergies … man I sound crazy sometimes.) Going to buy some of these and try some of the other flavors. They are not filling but they sure satisfy the taste buds.
Zevia: These are a great no calorie soft drink made with natural stevia leaf. I think the reason I don't drink these more is that they make me a little more burpy than normal soda. They ARE good though.
KT Tape: I'm not looking forward to using this because I don't want any injuries that this would help BUT other than the injury aspect I am interested in these. They look awesome.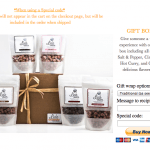 Lush Gourmet Foods Nuts: So I think one of the more disappointing things was the nuts. I get that people have peanut allergies but the promo code is kinda lame. Buy $36 worth of nuts and get a $7 bag for free. I was looking forward to trying these but probably won't at that price to entry level. Throw it on through amazon so I can buy a bag for $7 with prime and free shipping and I'll give it a whirl.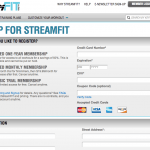 StreamFit: And anything that has two free months but I have to enter in my credit card info … I'm not going to do it because I don't want to deal with the process of canceling something if I don't like it. It's not a risk free and easy trial. I would either want to do more research on the company to see how easy it was for other people to cancel, or if there were any complaints about billing before going that route. I don't want it enough to spend that kind of time on it.
I canceled my recurring subscription on this one because January being that month that everyone resolves to lose weight, I doubt that I'm going to be interested in the January box. I'll probably resubscribe in Feb or March.