I had a board meeting yesterday so I was aiming for business conservative without being completely boring. The shirt is a very light dusty rose which comes across more like a cream in the photos.
Outfit details below. Click any image to enlarge.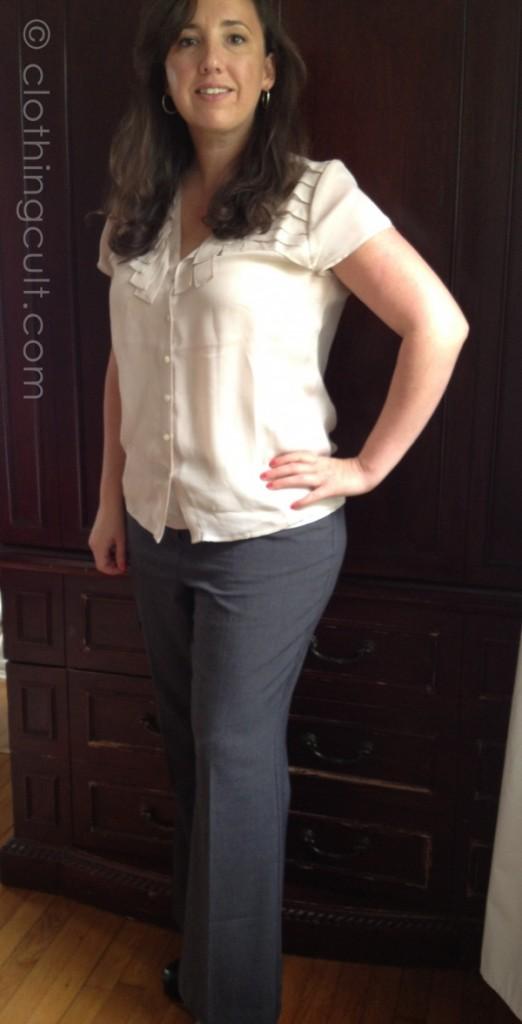 I'm wearing:
Simply Vera by Vera Wang black heels seen in my previous blog post here. I got a lot of comments on these. Lot's of questions about whether or not I thought I was going to fall in them too because they're so tall. 🙂 I wouldn't want to wear them daily but they're fine for a day with a little walking and a fair amount of sitting in between.
Talbot's outlet dusty rose silk top seen in this previous post. I love how simple the draped strips of fabric at the neckline make the blouse just that little bit interesting.
Chico's gray dress slacks. These are a great staple item for me. So much so that I bought a second pair when they were on sale. Long enough to wear with heels and short enough that somehow I can still wear flats without them puddling at my feet. I believe they are the "Smooth Stretch Flare Trouser Pant, Style: 570034128" which they don't seem to have gray in at the moment.