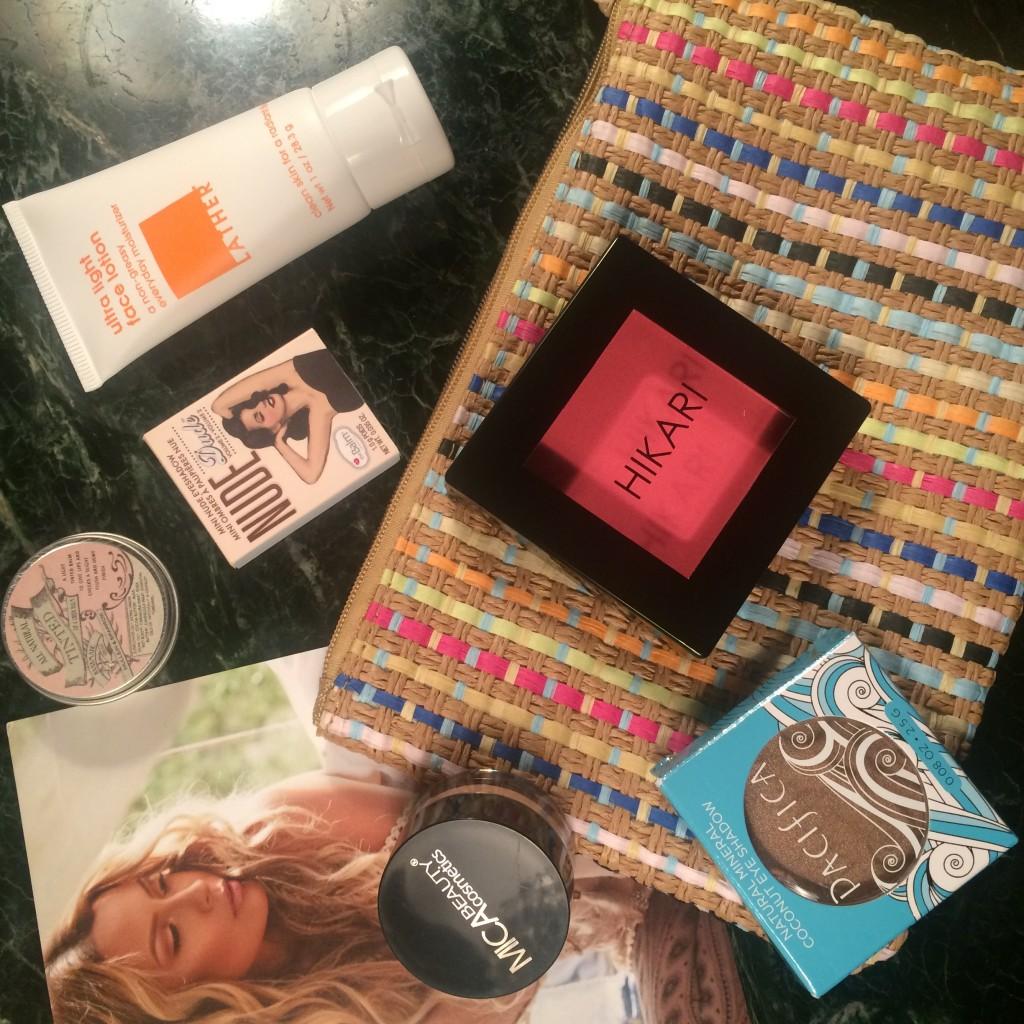 Hikari Cosmetics – Blush in Tango – I'm not much of a blush person because I'm naturally a bit pink. Add in talc and mineral oil and parabens and I'm even less of a blush person. A few of those aren't harmful but they feel weird on my skin (talc and mineral oil.) I will say the packaging is sleek though. Simple and elegant on the packaging. No fragrance or parabens either. It ranks a 4 with the EWG Skin Deep Cosmetics database. Not great but not the worst (0 is the best, 10 is the least healthy.)

LATHER – ultra light face lotion – All the ingredients look good here at a glance. But bam, Vitamin A which increases skin sensitivity particularly to light. You know that Vitamin A is something I don't mind in a peel and even an exfoliator, but maybe not something you want in a product you are going to wear all day… I'm half and half on this. I might try it as an overnight moisturizer still even though it ranks a 4 with the EWG cosmetics database.

theBalm Cosmetics – NUDE Dude Eyeshadow Single in flirty – cones rule this one out for me because they cause me to personally break out (allergy?) otherwise the ingredient list is pretty sound here. Usually theBalm products seem to rank as healthy but have cones I can't use. And I'm right, it's a healthy 2 with the EWG Cosmetics database. Too bad I can't personally use this one.

MicaBeauty – Eye Primer –  no cones, no fragrances, no parabens, nothing bad here as far as I can tell. I'm excited to give this a try. I really loved the black micabeauty eyeliner I bought previously. The downside of the eyeliner though was that I tried to stock up and since it's a natural product, it dried out. Even the one container I was using dried out before I was halfway through it. It's something I keep thinking about re-purchasing but haven't since I have kinda fallen for the Pacifica eyeliner and a few others. So back to the eye primer. I AM excited to try this one out. And it's also a healthy 2 with the EWG skin deep cosmetics database.

Mullein & Sparrow – Mini Lip & Cheek Tint – two blushes in one bag? Well at least it looks like it would make a better lip tint anyway. 🙂 So this is again a very natural looking product. Nothing bad stands out on this ingredient list and many of the ingredients are organic (maybe all of them actually.) It's as healthy as it can get, ranking a zero with the EWG skin deep cosmetics database. 🙂
---
Bonus time! Since I had enough bonus points to earn a reward, I chose to get the Pacifica natural mineral coconut eyeshadow in treasure. I received one of the other color previously and liked it but thought this color would actually be something I would use even more.
And cute bag right?
---
Sign up for Ipsy: 



http://www.ipsy.com/?refer=u-h051sec1kqq5g8p
{affiliate link – I get 250 points which points equal products but it's still a little unclear how many points to the dollar}