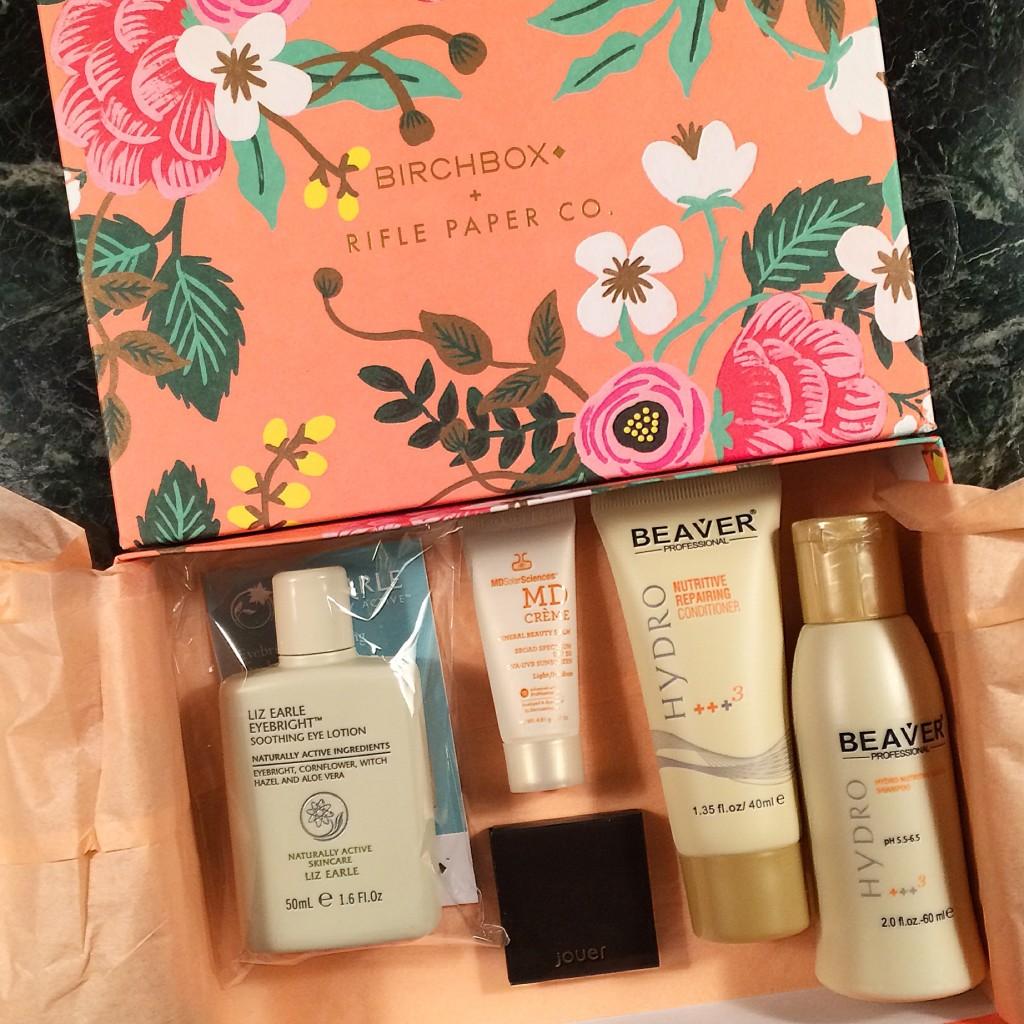 First let me say I LOVE the Rifle Paper Co. box here. Even though it's just a cardboard box, it's lovely.

Jouer Tint in petal – Again, not a huge fan of blush or in this case cheek tint. That aside though this has paraben, bht and petrolatum in it. It's not horribly bad for you but it's also not great for you and there IS better out there on the market these days. This ranks a 4 with the EWG skin deep Cosmetics Database (reminder, 0 is the healthiest, 10 is the worst.)

Liz Earle Eyebright™ Soothing Eye Lotion – I'm already addicted the Liz Earle Hot cloth cleanser and I think this is the reason I chose this box over the Mad Men themed boxes. I wanted to try another Liz Earle product because of the quality and ingredients of the first I tried. I've lost count on the number of times I've emptied and re-purchased the hot cloth cleanser!  Right off the bat though there are a couple of ingredients I'm not keen on – parabens. But there's not much else in here to worry about so other than that it's pretty close to being healthy. It ends up ranking a 3 with the EWG cosmetics database. I'm going to try it but they could make it healthier by working on a more natural preservative.

Beaver Professional Hydro Nutritive Moisturizing Shampoo
Beaver Professional Hydro Nutritive Repairing Conditioner
I'm going to group these two together since Birchbox didn't put the ingredients online. Cones rule BOTH out for me. Fragrance is strong and these and hurts my lungs (that's a new one.) And they also contain parabens. I don't want to have to type up the ingredients list on these tonight but I can tell you already I won't be trying them. In fact the scent hurts me enough from within the bottles that I don't want it on someone else's hair and I'm throwing them out. Toxic. Gross. It's making me feel bad and I haven't even opened it. Gah!

MDSolarSciences™ MD Crème Mineral Beauty Balm SPF 50 – several kinds of cones rule this one out for me personally (causes me to break out) but the rest of the ingredients look good at a glance. SPF 50 is a bit overkill however. Unless you're surfing and need something on your nose or are super fair skin and visiting an island for the first time ever, this just seems a little extreme. We need to allow our bodies to get a bit of sun and produce a certain amount of Vitamin D in order to be healthy. Also at 17% zinc, I wonder if this will be a bit calky despite the color – anyone want to give me feedback on that, please post in the comments. That aside, lets check out the full ingredients for anyone not sensitive to cones. This is actually very healthy – it ranks a 2 with the EWG cosmetics database. So if you're looking for a strong SPF facial cream (I suspect this will be like a BB Cream instead of a foundation) you might want to give this a shot. Also does anyone know if it's water resistant? Might make for a good day at the beach lotion for those who hate going without any makeup at all. (Again, cones and I don't get along so if you can post a comment that'd be great!)
---
 Still not signed up for Birchbox? 



http://birchbox.com?raf=3l3e7
{ yes it's an affiliate link, I get 50 points which equals $5 credit – share the love! }