This month's Bespoke Post Box of Awesome is "Crisp."
Technically this box is usually Tim's box but I've taken a few of the items from his box this month and wanted to share and review.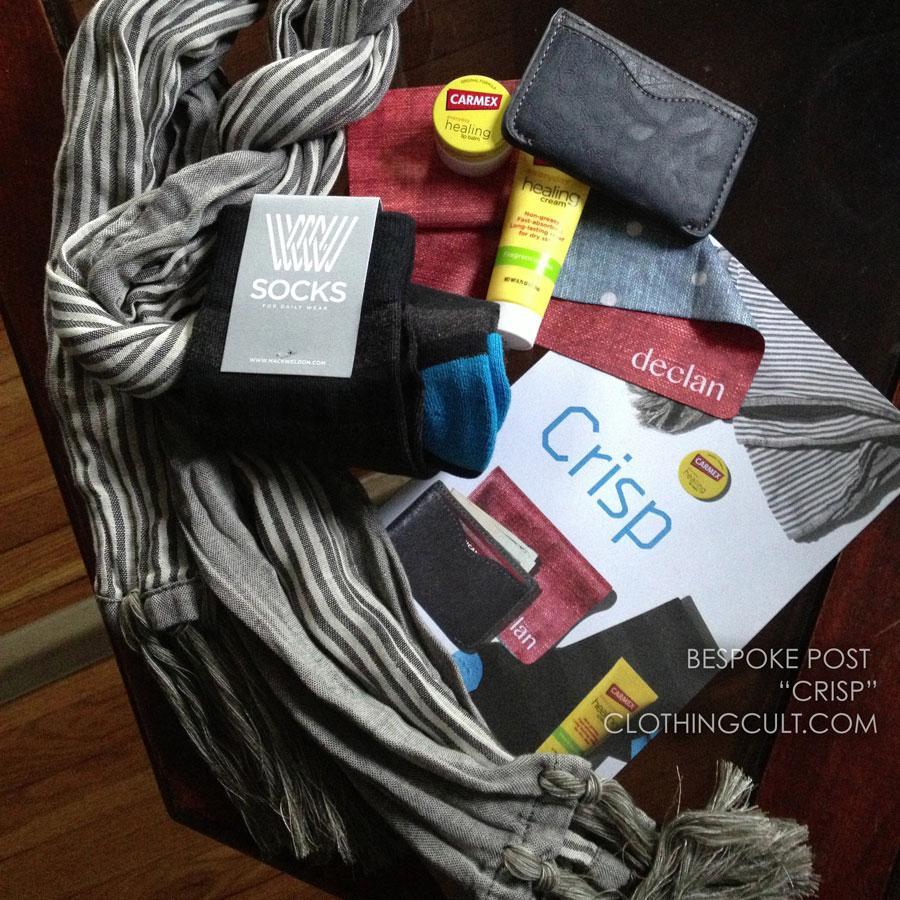 First, a little bit of background on Bespoke Post's "Box of Awesome"
Bespoke Post operates a lot like JewelMint does in the sense that you have the option to skip a month but it's mixed with a set box of curated style and discounted products like Birchbox or Ipsy.
Each box has a strong theme to tie the items together whether that's coffee (link to Tim's review)  from the Bespoke Post "Roast" box or getting a closer shave with the Shave set. Each Bespoke Post box is $45 and includes products that are often worth way more than that. Like JewelMint, you DO have to remember to skip a box but you will get an email reminder as well as information about that month's box.
There are definitely some Bespoke Post boxes that are more unisex than others (if Tim hadn't bought the Bespoke Post Roast I would have … oh wait … I think I started him on this subscription so I may very well have paid for that box!) But the intended audience IS men. You can take a look through past "boxes of awesome" here.
On to the review of Bespoke Post "Crisp" box
and my Outfit of the Day (OOTD

OOTD

Outfit Of The Day

)
My favorite from the box is a scarf "exclusively made for Bespoke Post by vintage-inspired clothing label Gilded Age, this scarf captures the perfect mix of rugged and refined so you can go from yard work to a night out and anywhere in between." It retails for $119 and it is a 17″ Wide Scarf. Solid charcoal chambray on one side and Striped charcoal/white on the other side with 3″ long tassels. "Yard work" seems a little far fetched but maybe that's because I grab the cheapest scarf I own so it can get all sweaty if we're talking yard work…
To me this scarf looks very much like something that would sell at Madewell or Fossil but even better quality and my first thought when I saw it was that it looked like it came from Anthropologie. The scarf's style is a bit laid back but still a classic style given that it's chambray. The material is excellent and you can see the quality in the details like the sewn edge and how they've added the tassels. I expect that this scarf will last a very long time.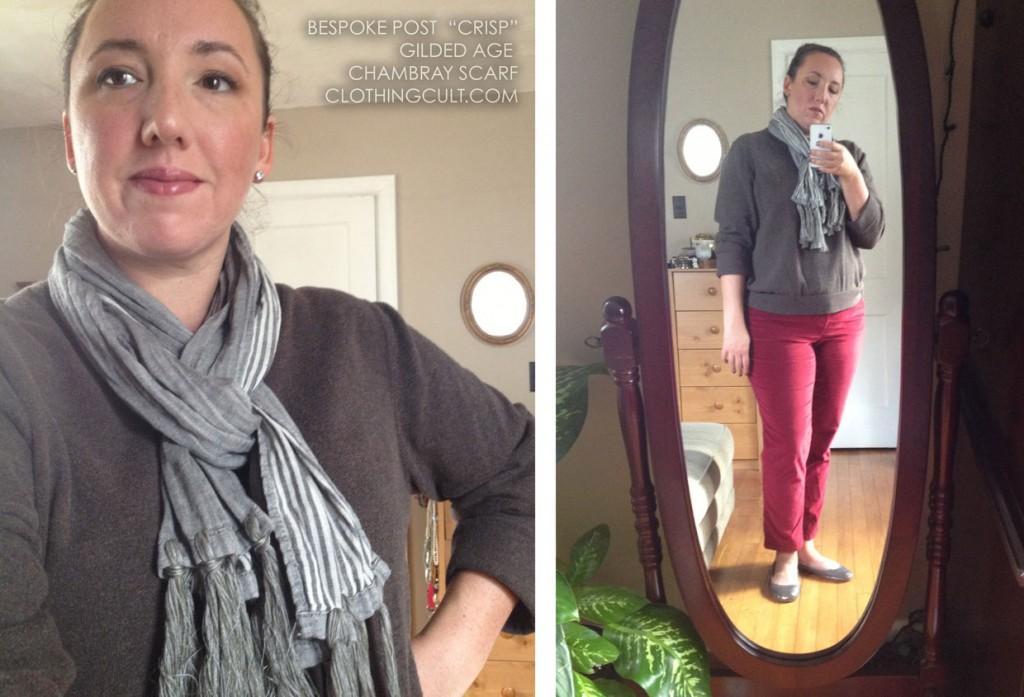 Pictured above: Gilded Age Chambray Scarf, Lands End cashmere cotton blend sweater (this sweater was also Tim's – accidentally run through the dryer so it shrank, sleeves rolled up so it didn't look too baggy on me), Kohl's Sonoma life + style red velvet ankle pants, Ugg leather and shearling Antora metallic pewter ballet flats, faux diamond bezel earrings from Curacao, and barely in the picture, the new hair donut bun.
Don't worry guys, my photo doesn't doom this scarf into the girly category. I should probably take a photo of Tim wearing the scarf too. It does look fairly unisex and how you tie it can be an important factor in how it looks on. (Photo of the scarf on a dude over at Dappered in case I don't get around to photographing it on Tim.)
My next favorite item in the Bespoke Post box was the Microfiber Sheet from Declan. (Show in the first picture at the top.) It had a printed chambray pattern on it and it's EXCELLENT for wiping down electronics. Even better than my last microfiber cloth (which Tim accepted as a consolation after I grabbed this one from his box.) Declan has a lot of great patterns on their website. Again, good quality product… I keep thinking that if they made them square they would nicely double as pocket squares for Tim.
And the last thing I took from Tim's box was the Men in Cities Card Holder Wallet.  I'm very basic when it comes to my wallet. Less is more. Small is better. I want to be able to throw it in my purse and find it but also be able to throw it in a pants pocket quickly. And with women's pockets being even smaller than mens, a tiny wallet is a must. I haven't migrated my stuff over to this gray leather wallet yet because it's just a hair smaller than my current wallet but more importantly, I'm not sure what I'm going to do with the couple of keys that hang off the current wallet…. so Tim might get this wallet back for that reason alone. I'm not sure yet. I'm not even sure I can buy yet another of the wallets I have been using for the last 5-ish years. I asked for one for Christmas one year and got two of the same thing … I kept the second and upgraded to it after much abuse of the first one. And I've not seen a lot like it so even without the keys, this Men in Cities card holder wallet may be my best bet. (I'll try and post a photo soon of the two side by side.)
The one item Tim is for sure getting from this box is the Charcoal Striped Socks from Mack Weldon. There's no way they would fit my feet! 🙂 And he needed some more nice dress socks anyway. These are nice and they appear to be a good quality. We'll see how they hold up and if they can beat out the golden toe socks he owns.
The box also came with Carmex Lip Balm + Lotion which neither of us will use (he's allergic to one ingredient, I react to another.)
Anyway – another great box from Bespoke Post Box of Awesome!
Like what you see? Sign yourself (or your man) up for a Bespoke Post Box!
http://bespokepost.com/r/1c10f6
(full disclosure this is an affiliate link though it's Tim's account)
coupon code "WINGMAN? should save you 25% off your first box!