I recently went to Curacao, Netherland Antiles which is an island in the Caribbean. Many of the stores seemed to be fairly focused on high end American items like Tommy Bahama, Polo, Lacoste … Everything is duty free but you're on an island. It's still not cheap and it's not cheap brands either so even at 50% off, a shirt is likely still $50.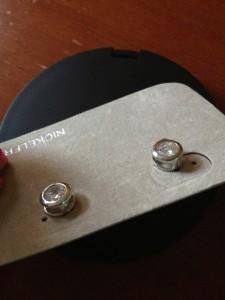 We did however end up in this cute little shop with some unique goods and I did buy one things while I was there. A pair of bezel faux diamond earrings.
HOWEVER what I bought is NOT a good representation of the shop they came from.
Bamali (the store name) had a lot of fabulous and unique jewelry. If jewelry were the thing I get really excited about, then I probably would have bought more. My problem was that the pieces that looked good on me, did not fit my "at home / office" style so I couldn't see myself wearing them much beyond vacation. Then there were a lot of other fun pieces that didn't look good on me. And a few that met the qualification of both looked good and would be something I would wear but those pieces were closer to $100. Not the kind of money I wanted to spend on jewelry.
So I ended up with earrings that are practical, slightly boring but were only $11USD.
 To see some of their jewelry and clothes, check out their website. Even their own website however doesn't do the shop complete justice. They had a lot of unique batik prints in both rayon and cotton. They do not offer shipping so if you happen to be in Curacao, definitely check them out in person.
http://www.bamali-fashion.com/