Caldrea Body Lotion – in Aloe Water Apricot

Fragrance added (likely synthetic), no cones, could be healthier but not bad. This scores a 4 with the cosmetics database (0 is healthiest, 10 is worst.) The synthetic fragrance knocks that down a lot but it does have some other ingredients that are excellent for skin moisturizing so I'll probably give this a try.
Caldrea Body Wash – in Aloe Water Apricot

Fragrance added (likely synthetic), no cones, could be healthier but could also be worse. This scores a 5 with the cosmetics database. I'm not big on body washes anymore so I'm not sure yet if I'll try this.
Marcelle New·Age 8 in 1 Power Serum

Cones rule this one out for me personally. It has one ingredient to be a little concerned about which brings it's ranking up to a 4 with the cosmetics database (0 is the healthiest, 10 is the worst.) Not bad, could be better but if it's not something you are allergic to, I would give it a shot.
PIXI Beauty Shea Butter Lip Balm – in Pixi Pink

Pretty good here. None of the usual nasties. No fragrances etc. This ranks a healthy 3 with the cosmetics database. Now lip balms are nice but I do lean towards glosses so I'm really not sure how much I will use this in particular.
This is going to sound a little odd but between the name, the color, and the tube itself, this reminds me of some sort of tinkerbell lipstick I had as a kid. The color is a fairly vibrant pink but it's also still a lip balm so it's sheer.
One thing to note – the twist tube on this seems to like to let the product fall back down into the tube. This is something Pixi Beauty needs to maybe work on. This is not a dollar store product (like I would wear anything from the dollar store to begin with – scary!) and it makes it a bit harder to put on.
Votivo Candle Travel Tin
Ok here's where I'm going to get a little weird. Soy candles are supposed to be healthier than paraffin candles right? Well every time I've tried to go with healthier candles, I've ended up with a MASSIVE headache. Soy candles. Paraffin candles with natural scents. I'm not sure what goes on here that really messes with me. Basically the only candles that don't give me a headache are synthetic (I know, bad) and paraffin. Best is a basic vanilla. I will give this one a shot even though it looks like it's soy with synthetic fragrance so not entirely healthy. But I really have not figured out my deal with candles. Tim is the same way though … with some opposite allergies (he can't handle lavendar for example) so it makes candle choosing VERY difficult and I opt for the "not healthy" candles because "not healthy" is better than a massive headache.
Out of the box the smell is decent. Lit might be another story completely. We'll see.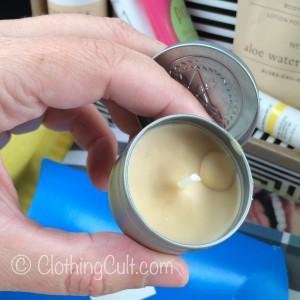 Supergoop!® Everyday SPF 30 with Cellular Response Technology

Another neither here nor there. See my comments on the sunscreen ipsy sent this month. This is also a 5 with the cosmetics database. With a little planning you can do better. Take a look at my previous post on natural / healthier sunscreens.
So the May 2014 Birchbox overall: some things I'm really excited to try and some things that aren't my cup of tea. Still worth the $10/month to try some new products!
---
 Still not signed up for Birchbox? 



http://birchbox.com?raf=3l3e7
{ yes it's an affiliate link, I get 50 points which equals $5 credit – share the love! }