Anyone want to guess which natural deodorant is my favorite?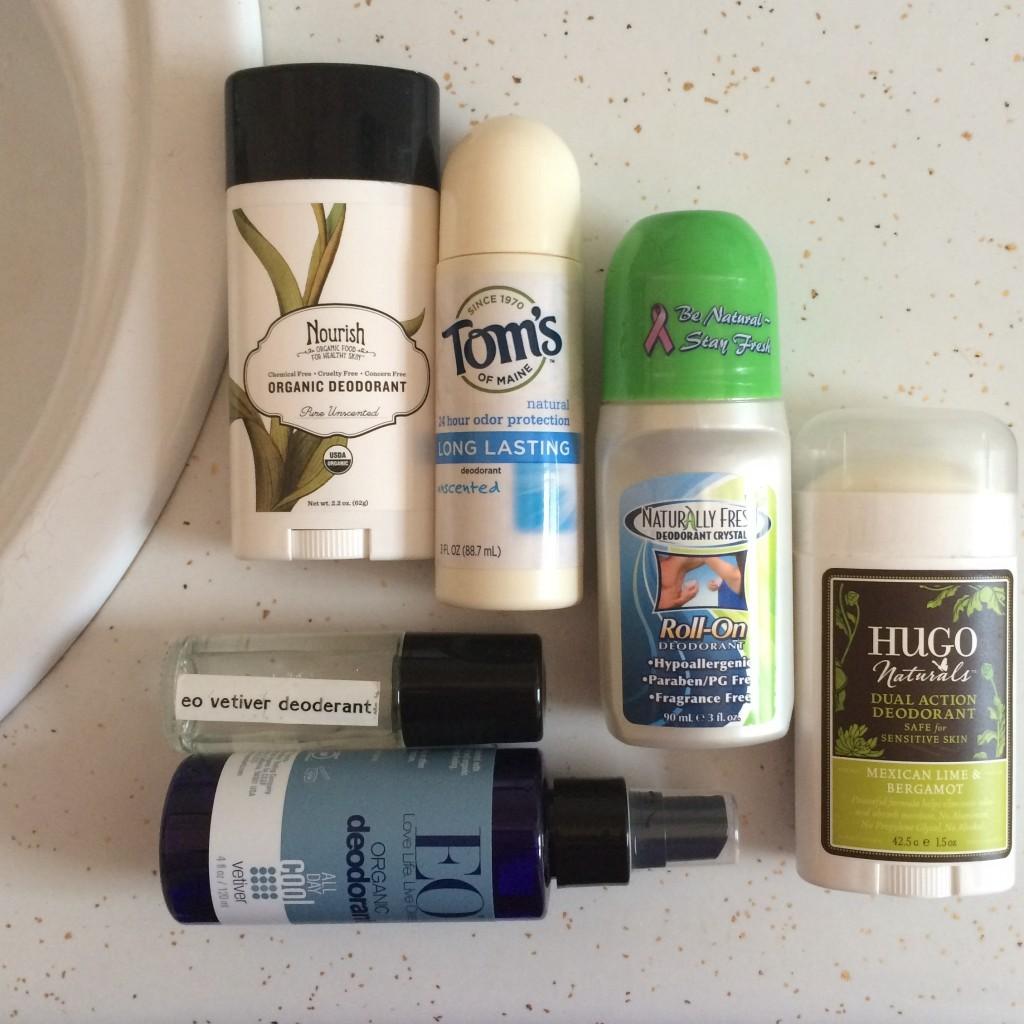 The least effective is the Nourish Organic Deodorant (unscented) for me – unless I just want moisturized underarms. Unscented sure but ineffective for me.
My favorite is the EO Organic Deodorant Spray in Vetiver but a spray bottle is idiotic for a deodorant so I bought an empty roll on bottle to fill. They have a lavendar scent and a citrus scent as well but no unscented.
The Hugo Naturals Dual Action Deodorant – Mexican Lime & Bergamot is a last resort because it's a bit sticky feeling. The scent is wonderful however. They have an unscented but it wasn't available locally at the time.
And the other two I love BUT I have become temporarily allergic to them several times (underarm rash is no fun) so I can't use the Tom's of Maine Long Lasting Deodorant Roll-On (unscented) or the Naturally Fresh Deodorant Crystal Roll On Deodorant (fragrance free) daily. Quick note on scent for these two: the Tom's of Maine "unscented" actually smells like Fruit Loops cereal for some reason and the Naturally Fresh "fragrance free" actually smells like a light masculine musk. While neither of these has any added fragrance, not even of the natural variety, if you were expecting something in a deodorant with no smell at all you aren't likely to find that.
I've been using the EO deoderant daily for months now no problem though and I haven't reacted to it like I have some of the others. Only down side is that it smells a bit like gin and I had to buy a separate roller bottle. Why don't I like a spray? Because FAR too often I'm dressed before I remember deodorant. I can apply a stick or a roll-on under a shirt but a spray doesn't work well when this happens. EO I would LOVE it if you offered these in a roll-on. ALSO you have forgotten about the 3 oz rule for travel liquids and the spray bottle would be thrown out by the TSA.
None are as effective as chemical laden deodorants at fighting scent on an intense day but I can say that four of these come pretty close for me. (I threw in the Nourish Deodorant because it's popular right now, unscented, and if it works with your body chemistry, it's the healthiest.) None are antiperspirants – not sweating is not natural … but I don't want to smell bad doing it.
Please keep in mind when dealing with natural deodorants that your own personal body chemistry may have an impact on the results you get. I know I've tried a couple (not shown) that were so useless for me that I trashed them without thinking twice but had decent reviews from other people (some people say that the Nourish deodorant works for them!)
TMI? 🙂
So here's the breakdown of each of these natural / organic deodorants from the Cosmetics Database (in order of which ones work the best for me):