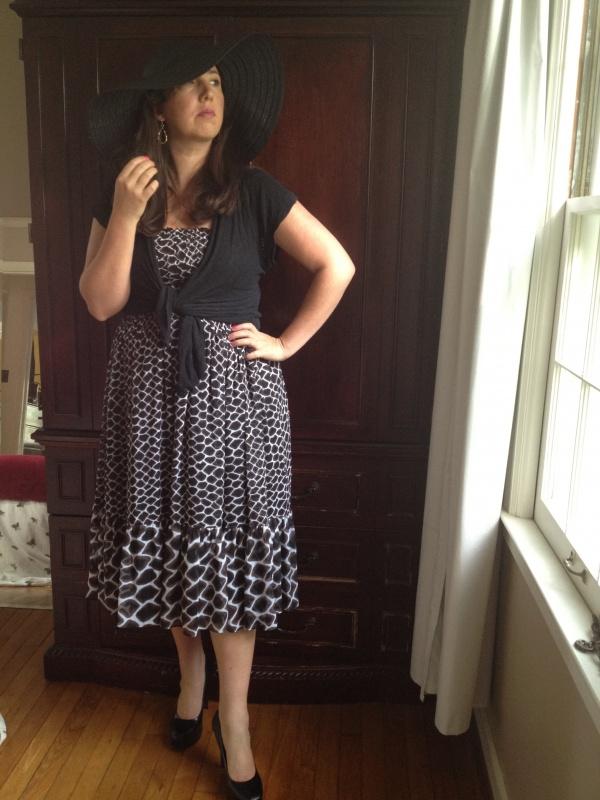 If you're from KY you know that the Kentucky Derby is a big deal here. My planning this year failed miserably because Tim was actually at Churchill Downs serving up the Woodford Reserve $1000 Mint Juleps. And somehow most of the people I know were either at the event working, out of town, or just wanted to quietly watch the race at home (and I think some were partying with a group of parrotheads.)
But I decided I was going to dress up anyway, posted on facebook to see if anyone had any last minute invites and crossed my fingers that a party would either appear or someone would at least go have a Mint Julep at a bar with me to watch the Derby itself.
Nope, no such luck but I was determined to head out anyway. I did luck out that there was actually an available seat at Harry's bar over in Palomar.
And I chickened out on the hat mostly because I didn't want to either block someone's view, hit someone with it or take it off and have to find a place to store it.
Hat:Forever21 Basketweave Floppy Hat for only $5.50! I had come across this the night before and thought it was perfect.
Dress: strapless from White House / Black Market bought a couple of years ago.
Cardi: Target Mossimo bought a couple of years ago. Because I didn't want to wear a strapless bra with the strapless dress I threw this on so you couldn't tell. Usually I don't tie it but it worked better with this dress tied.
Shoes: Simply Vera heels from Kohl's mentioned here previously.
And in case you were wondering, I did drive through betting at Keeneland on Friday. I really wanted Hansen to win. Actually the horse with the best name was Daddy Long Legs but usually those that I'm drawn to like that tend to come in dead last. I had bet Hansen, Bodemeister, and Take Charge Indy for the trifecta and I had also bet a couple of others as well. The only winning ticket I had was Bodeimeister to Place (which means come in first or second) so I will get $6.20 back of the $18 I bet 🙂