I went to Hancock fabrics this evening and came across these buttons that I thought would make perfect earrings. They're very simple and cheap to make.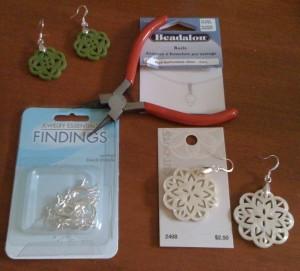 Supplies:
Earring hooks on hand or around $3 a package
Necklace Bails – used Beadalon Pinch Pendant Bails 327B-070 $3.49 (pack of 4)
Bloomenthal laser cut "cut-out" buttons $2.50 ea. large or $2.75 for the cards of two smaller buttons. Colors that may be available: http://www.blumenthallansing.com/cutoutbuttons.aspx
Pliers and wire cutters on hand.
Project cost should be around $12  or less
unless you don't have pliers or wire cutters.
I got both the large white buttons and a green that's unusual.
This project is super simple.
Cut the piece from the necklace bail off that won't work with the earring hook with the wire cutters.
Open up the bail and insert the button. Make sure you close it on the same opening in each button for both earrings so you have symmetrical earrings.
Open the earring hook to and make sure you have the button faced the correct direction when you put the loop from the bail onto the earring hook and close.
The white earrings button size is 1 1/2 inches (38mm) so they are slightly longer than that.
Made from laser cut polyester. They feel a bit like plastic but with a pearly finish and they are VERY lightweight.