One of my requested Christmas presents this year was the Pur Minerals Starter Kit in Golden Warm.
http://www.purminerals.com/Pur-Mineral-Makeup-Starter-Kit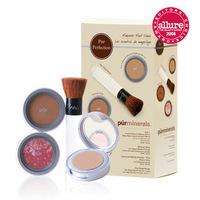 The kit consists of a foundation, bronzer, blush and chisel brush.
I am disappointed that I researched the heck out of the foundation ingredients but neglected to notice that the bronzer has parabens. It's not even a good bronzer at that in my opinion. Sigh.
I LOVE the foundation however. I have a hard time finding a good match for my skin that doesn't look like I'm either jaundiced (yellow) or washed out. The Golden Medium works really well and seems to be a very neutral color. I like that I've found a fairly healthy foundation that is a pressed powder that evens out my skin tone and can cover under-eye circles. It's not too heavy, not too light, lasts all day and doesn't break me out. I can skip the bronzer because it doesn't wash me out though I still prefer to use a bronzer.
The brush is decent. I don't own a kabuki or chisel brush so this is a good addition to my collection but I think there could be better versions out there. This one was a bit scratchy the first few times I used it. I will continue to use it because it does a good job but I'm not blown away here.
The blush I can't really comment on because my cheeks have a pinkish undertone so blush of any kind makes me look like a clown. I tried it on my hand and it seemed like it could be a good color for anyone who regularly wears blush.
—– update April 13, 2010
I'm out of the starter kit foundation. The pan was fairly shallow and looks like the full size the same depth. Starter kit size is 0.15oz and full size is 0.28oz. I rarely finish and re-buy a powder foundation though.