Thanks Zoya for sparking me to become re-obsessed with nail polish – sheesh. 🙂
Part of my problem is I lean towards liking colors I don't think are exactly … first-meeting-with-a-potential-client appropriate.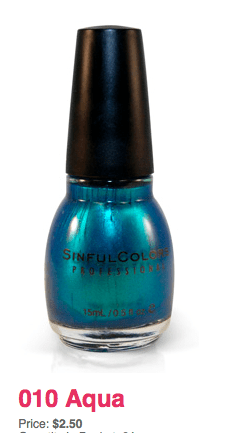 I knew I wasn't going to be having meetings around the holidays though so I am actually wearing this color aqua at the moment. I'll try and take a picture tomorrow before I remove it. One thing I didn't like was that even being super careful and allowing for excessive dry time I ended up with some smudges. Nothing so bad I needed to redo it but not as good as the opaque white I wore the week before. Maybe I put it on too fast, I'm not sure. I plan on giving this aqua another go after my Thursday client meeting.
I don't have a ton of in person meetings but a lot of my clients are fairly conservative and 40+ so they didn't grow up with strange colors being appropriate on nails.
I remember wearing black nail polish back in 1993 and got crap for it from people I went to school with. I'd almost say that certain shades of black are more … socially acceptable now though?? Anyway – it's leaning on the safe side that had kept me from using much nail polish in the last five-ten years (seriously.) That and the unnecessary chemicals that many of the polishes are starting to slowly remove due to demand. Plus typing used to mean that two days max and my nails looked like crap.
The teal has been going strong for about 4 days now and the opaque white (I don't remember the name but it was also a sinful colors polish) died on day 7. Day 7 that one just started peeling off in blobs. I don't think I've ever made it that long before without some tip chipping. I used the base coat, 2 coats, and then the base coat as the top coat simply because I didn't seem to have a top coat polish here anymore.
Maybe that's what I messed up on the aqua. I did base coat, 2 coats but no top coat (or base as top coat.)
In upcoming days I'll be posting my research / wishlist for the sinful colors line and also sharing the massive number of spoons I've got from Zoya in the last couple of weeks.
PS – I've changed my mind on my Zoya freebies. I'm swapping Dulcinea with Lulu. And the red I realized I really wanted for December so I'm kinda up in the air on my third pick. Tiffany is still gorgeous (I now have the spoon sample of it) but I'm not feeling anything glittery at the moment.
And this is the base coat I've been using: