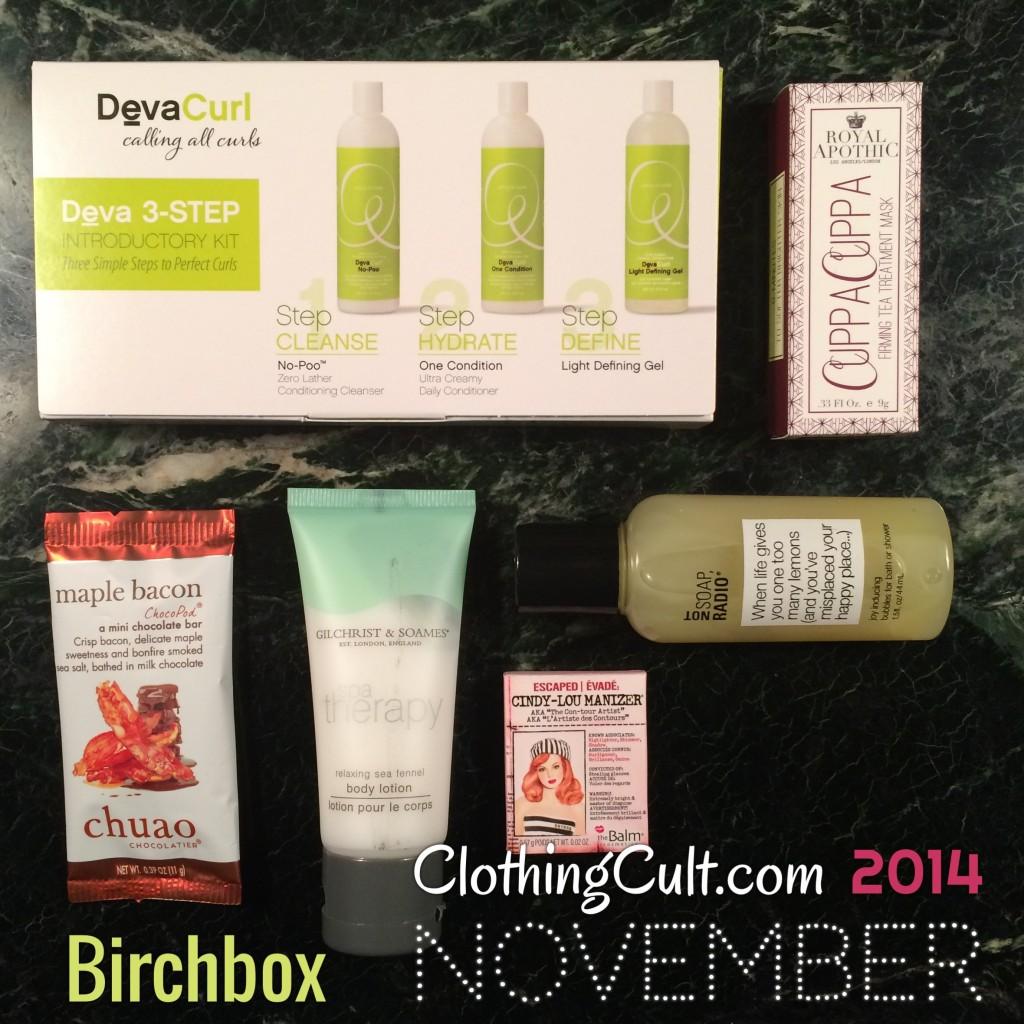 Chuao Chocolatier Assorted ChocoPod – it's chocolate and I really like this brand. Nice extra. I got the Maple Bacon … mmmmm bacon…. 🙂
DevaCurl 3-Step System – This is a three part product so I'm going to review each piece separately. No cones, no parabens but there is fragrance added to these and there's no indication that it's from essential oils.

No-Poo™ – Cleanse: The ingredients don't match the current EWG Skin Deep Cosmetics database listing for this so I went ahead and did a custom report. It's still a healthy 2 with the custom report. Good news here and there's no fragrance or other nasties.

One Condition – Hydrate: This is a not-so-bad 4 with EWG's Skin Deep Costmetics Database. So we're still hanging in there with the ratings. Since this is a system I think I should try the whole thing to really judge it. I really wish I could easily open these and check out scent and consistency without needing to use them immediately…

Light Defining Gel – Define: Again with a not-so-bad rating of 4 with EWG's Skin Deep Cosmetics Database. I think if DevaCurl would lose the synthetic fragrances this would be even better.
My last comment on the DevaCurl system is that while it's a great sample to be one sample in my Birchbox, I wish it had come in mini bottles instead of packets you tear open. It's always frustratingly difficult to keep samples like this if they are more than one use. Also I kinda wanted to sniff them and have Tim sniff them to make sure it wasn't a scent either of us was outright allergic to and since you have to cut them open I can't just twist off a top to check.

Gilchrist & Soames Spa Therapy Body Lotion in "Relaxing Sea Fennel" – no parabens, phthalates, petrol-derived ingredients, mineral oil, urea, DEA, TEA or propylene glycol. But I can't find the actual ingredient list anywhere online. So I'm going to type them up:
Ingredients: water, cetearyl alcohol, cocos nucifera oil, glycerine, ceteareth 20, helianthus annuus seed oil, parfum/fragrance, macrocystis pyrifera extract, chondrus crispus extract, crithmum maritimum extract, fucus vesiculosus extract, ulva lactuca extract, citric acid, dimethicone, glyceryl dilaurate, stearic acid, benzyl alcohol, dehydroacetic acid, acrylates/C10-30 alkyl acrylate crosspolymer, sodium hydroxide, tocopheryl acetate, alpha-isomethyl lonone, benzyl salicylate, butylphenyl methylpropional (lilial), citronellol, eugenol, hexyl cinnamal, limonene, linalool
So this has dimethicone in it which I can't use. It's not the worst product though as it ranks a 4 with the EWG's Skin Deep Cosmetic Database.

theBalm® cosmetics Cindy-Lou Manizer® – this has dimethicone in it which makes me break out so this is a no go for me personally. Otherwise it's fairly healthy. It ranks a 3 with the cosmetics database. It looks like it's a nice color and should work well as a highlighter OR if you don't like highlighters I would recommend trying it as an eyeshadow.

Not Soap, Radio Body Wash – fragrance and synthetic colors. I don't think that synthetic colors in soap is really necessary. Actually the color is the only way I was able to tell which one I received. Since it's yellow I received "Joy Inducing" Lemon + Sugar.  Or to complicate things further, it's "Pheonix" in the ingredients lists listed on Birchbox.com and "Bergamia (Bergamot) Fruit Oil" is not listed on the back of the bottle (I wish they would stop making me work so hard on these ingredients!) It's a 4 with EWG's Skin Deep Cosmetics Database.

Royal Apothic Cuppa Cuppa Firming Tea Treatment Mask – no obvious nasties except for fragrance. Then Phenoxyethanol is a preservative used in cosmetics and personal care products and it's not great either. If they would work on these then it would probably be perfect. It's low enough that if it doesn't make my nose itch though that I will be trying this. It's a 4 with the cosmetics database.
---
 Still not signed up for Birchbox? 



http://birchbox.com?raf=3l3e7
{ yes it's an affiliate link, I get 50 points which equals $5 credit – share the love! }
---