Someone recently posted the following video about bikinis over on facebook and it made me really summarize some of my thoughts about the swimsuits and bikinis. You may or may not agree with me but go ahead and watch the video and then read on…
I agree with some of the sentiment in the message here but I also want to point something out about studies … There's a big difference between a woman posed in a tiny bikini in the Sports Illustrated swimsuit edition and a bikini on someone playing volley ball. I highly doubt they used images of female volley ball players or even surfers for the study.
The video implies that you can't have modesty and you can't not be objectified (note the double negative on purpose there) IF you are wearing a bikini. I simply don't agree but it IS brilliant marketing for a one piece swimsuit company. We are not born with modesty, modesty is learned. Watch any baby running around in just a diaper and this should be clear that they are not worried about what they are wearing or aren't. Modesty is related to social acceptability and self-image and our upbringing. Our parents tell us "cover up" and "you better not leave the house in that" right? That's probably the basic source for what we deem appropriate. Fashion and clothes are much more complicated than that and I'm not going to dive too deep on that at the moment though.
That said: no swimsuit is easy.
Whether it's one-piece or a bikini, it is a very personal choice.
Let's just review a few of the things that make up our decisions on swim wear since fit, function and even tan lines can be a factor in decisions:
Straps:

detachable, shoulder, criss cross, halter, one shoulder, none, or even something really crazy (back to that thought on tan lines…)



Bosom support: enhanced Bra-type support, underwire, padding, no padding, sewn in padding…
Leg opening cut: modest cut, regular and generous leg openings. Combine this with the different ways this can fit depending on cut and your own body shape.
Bum coverage: you CAN have a generous leg opening cut and still have decent bum coverage which is why I list these as separate items. You have thong (please not at a public pool – europe or vegas you might be able to get away with it), Brazilian, medium coverage, full coverage, skirted.
Back coverage: high back (back that comes up to your armpits … probably preferred when there's no straps), medium back, low back.
Rise: when you get into bikinis then you have how far they come up (closer or farther away from your belly button.) Many bikinis seem to be low rise… or become low rise when you factor in a curvy badonka donk. 🙂
Shaping / control: some people want some additional support in the tummy area and there are companies that are working their magic with the fabric to accomplish that. Think spanx for swimwear.
Lining / fabric weight: I often forget this is a preference. In some cases a fabric lining is needed for some colors to keep the suit from being see through. In other cases this is accomplished with just a thicker fabric. And in some cases the thickness / lining just add that little bit of fabric that helps hide a little bulge or bubble that doesn't quite warrant shaping/control wear. Plus a thicker fabric suit can sometimes last a little longer.
Bikini top style: triangle, bandeau, sport… I'm probably missing some.
Monokini: half one piece, half bikini… actually it's just some front coverage in the belly area or you could consider it a back cutout that has gone too far. I do like these as a concept but with the exception of one I wore in the 80's when I was a kid, I haven't seen one that would fit even a skinny person very well.
And then you have weight as a factor as well. Look up Fatkini and you'll see some of the new styles coming out for women much larger than me. I'm not joking and I'm also not making a comment on weight, I'm simply calling it what other people are calling it and it does make sense to give it basically a completely different genre. I actually first heard about this when Skinny Emmie posted a photo or two on instagram. The one that has caught the most attention is the GabiFresh Swimsuits for All Galaxy Print Bikini.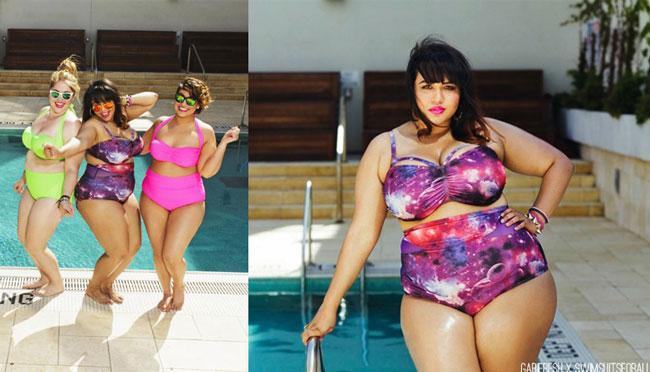 And one last thing thrown in – size availability. It's SO frustrating to find a suit that's just a little too big and they don't have that same suit one size down … or up for that matter. And the size you're holding isn't going to work in the pool. There is not a lot of margin for error when it comes to swim suits here.
My personal swimsuit preferences & thoughts:
Tankinis (or anything with a skirt): I don't like tankinis because they're either flapping around in the water or rolling up on you. Doesn't swim well or doesn't cover well in my opinion. Sure if you just want to lay out you can find one that won't roll up. The tighter ones seem to roll up on me so I might as well wear a bikini. Ok I take that back. I have one as an emergency backup tankini. It's loose so tucked the sides into my bikini bottoms and it was good enough for laps since I had gone through and hadn't washed my other suits. Anything with a skirt? No – again with the flapping fabric in the water which I don't like. If you like them you like them, I'm not knocking how they look.
One-piece swimsuits: I have a long torso (at least when it comes to bathing suits) so finding a onepiece that fits is hard. Even then many of them either don't have the appropriate bra type support or they still threaten to fall or expose me when I swim. What were they thinking with so many non-adjustable shoulder straps?
Bikinis: I am not currently comfortable in a bikini not because of weight but because of muscle tone (though I have gained some of that tone back swimming in recent weeks.) And you also typically have the tie on anything halter style digging into your neck in on a bikini as well (worse if you're anything larger than a B cup.) Or if it's just shoulder straps you're back to the problem of them falling down while swimming unless they're adjustable and stay put or can detatch and be criss crossed (unlikely.)
So what have I resorted to wearing at the pool? Well function is priority for me because I want to swim and I want to dive without flashing people. I have found two one-piece suits that work ok but lack bra support and one one-piece suit that has it all.
One is more a more fashionable long torso suit from Lands End (it might have been Lands End "Canvas" line but I don't think so.) It was a suit that other people complained was either too long or too short so I got it on clearance … also proving it was a fluke and I will probably never find anything like it again. They do have tall / long torso sizes for those who are having trouble even finding a one piece that's long enough. I call it "tall / long torso" because I don't wear a tall in anything else whatsoever. If you have a problem finding a suit that fits, ignore what you're taught about sizing and measure measure measure.
The other is an athletic suit a la Nike. The style is the Spider Back and I picked up one last summer at TJ Maxx on a whim and I found another at TJ Maxx on clearance a couple of nights ago in the retro floral pattern (originally $78, $16.99 at TJ Maxx and then marked down to $12 – you can't beat that.) It seems that Nike has adopted the more generous leg opening that I used to buy TYR for when I was a kid. IF Nike is listening, PLEASE PLEASE PLEASE add some sort of bust support!! This really has been one of my favorite swim suits.


I just found a one piece that is a super close second Athleta Samana Beachcomber One Piece in Tide Blue and they are another one of the few companies that carries had tall / long torso sizes so I opted for Tall. I'll be testing out and doing a more thorough review of this soon. LOVE the adjustable back tie and then the shelf bra in the front (not visible in their pictures.) It doesn't require a bikini top under it and comes with the removable pads (I prefer pads that are sewn in or I'm ok in some instances going padless on a swimsuit.) It's a nice middleground between fashion and function. It's lower cut in the front on me than the model so it looks a little less athletic and at the very least less athletic looking than the nike suits.
I like a low back  on a one piece so they're easier to get on and off wet. Low back on a one piece is also hard to find – most back coverage is at armpit level even when they don't look grandmotherly.
How do I deal with the bosom support issue? I'm the weirdo with a bikini top on underneath the one piece in most cases. The bikini top also moves less when I swim. Exception is the Athleta which uses a nice criss cross design I would like to see on more suits so I didn't need a bikini top under it.
What about the tie at the neck for the bikini top – I thought you said they dig into your neck? I have figured out a weird way to knot it so that its attached to the back strap and doesn't put pressure on my neck. OR better yet, a nifty little sewing trick. I'll share these with you soon.
Would I go back to a two piece / bikini soon if I felt more toned? You bet. Can I dive in a two piece? Yes or at least as well as the one piece suits (they all seem to need some readjusting after a dive.) BUT the bikini has to fit well which means correct size, decent coverage AND some adjustability to get a snug fit. I'm thinking my next bikini may be one intended for avid surfers with some extra grippy points and a back tie that criss crosses so I don't have to do weird knotting to it or cut it up and sew on it though. Calavera would be on the top of my to buy list for bikini tops or a Mi-ola x-back or maybe even a Lole Maldives top. But most likely a Calavera top will be my neck bikini top purchase.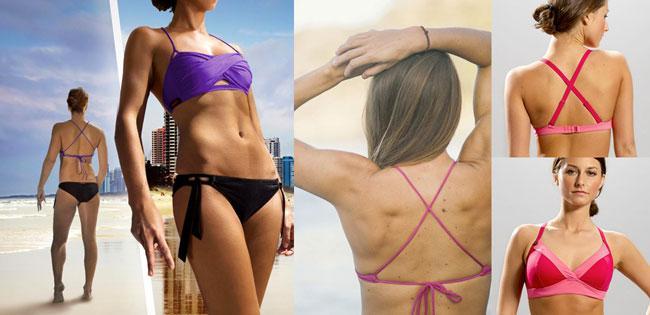 Wear a one piece if you want to ladies – it's your choice. But I don't think you should need this video to justify that decision. Do what's right for you. Find your comfort zone.
One last parting thought: if you buy a light colored suit, please do a quick shower test before wearing it to the pool. I saw someone yesterday wearing a white and yellow strip bikini, no padding, who clearly didn't check whether or not their suit was completely see through before wearing it in the water. You probably don't want people staring at you for that reason right? There's modesty and then there's "that should only be worn at a nude beach please!"