Just a quick photo of what I wore today – Military green pants, leopard ballet flats, fedora.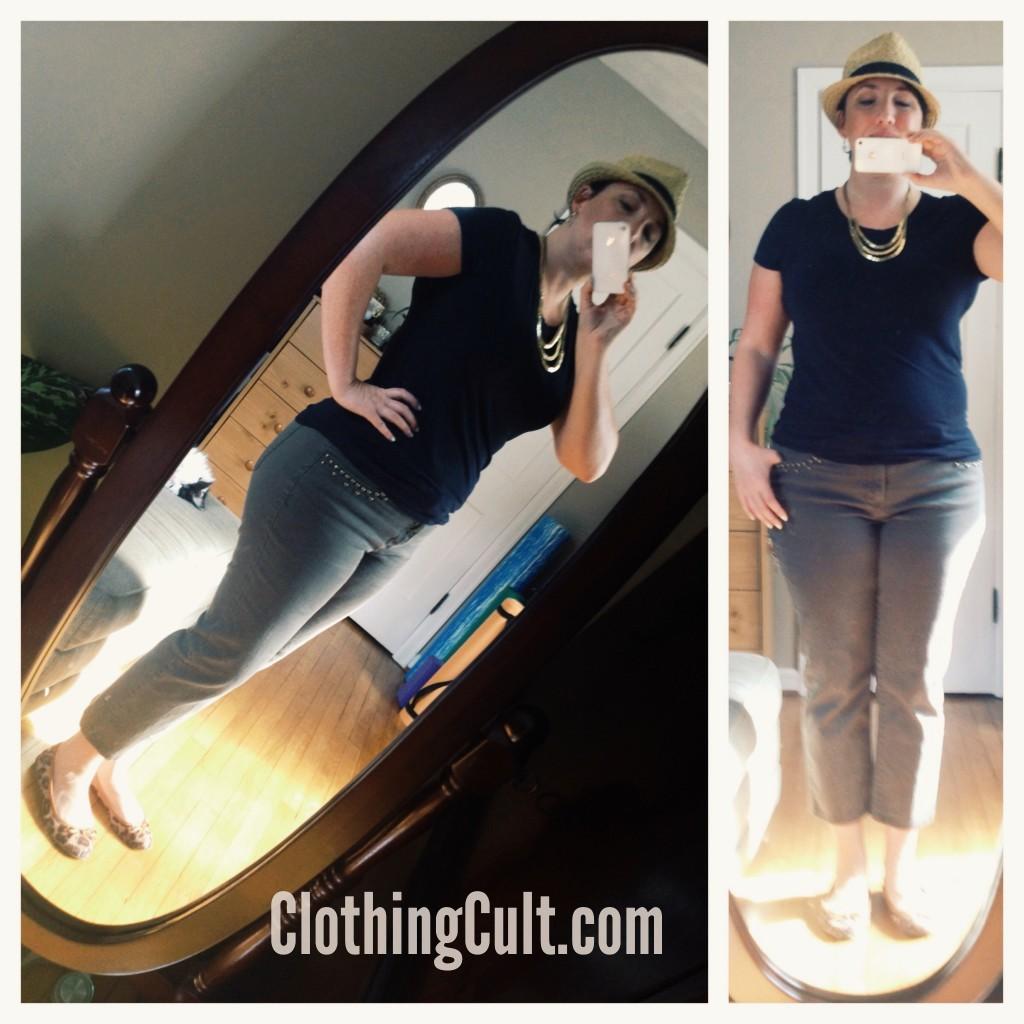 Most of this outfit is actually from Kohl's. I'm a little addicted to shopping there lately. I seem to find more pants that fit me there than anywhere else I seem to go for some reason and I'm not sure why. Really a fan of the Sonoma Life+Style and Apt. 9 brands when it's coming to pants. Also not loathing crops and capris like I used to … and I'm not sure why.
The pants are Apt 9 "Skinny Crop jeans" in military green that I bought on clearance. I like the studded detail on the pockets. I had gone looking for the zippered front accent full length version but didn't find them and ended up spotting these.
The necklace and earrings I wrote about in this post. Mega clearance jewelry haul.
The fedora (hat) is also from Kohl's. It's the Apt 9 Ribbon Straw Fedora in tan (no longer available) – they still have the black and white versions in clearance. I've had this most of the summer but didn't blog about it before. I bought a similar style hat from ebay that's a little lighter because this one is just a little too much on a 90 degree day (I should do a hat post.) 70 degrees outside and this one is great. Also this one is crushable so it bounces back from being abused – thrown in cars, bags, I think I sat on it once…
The Leopard ballet flats are Lauren Conrad from Kohl's. I bought them around Christmas 2011 (!!! ack) and have almost worn them out. They have been so well loved that I have had to glue one of the soles back down on the toe of one of the shoes. Honestly, leopard ballet flats should probably be a wardrobe staple so I need to find a good replacement. I've loved that these had comfortable elastic on the heel. (Open to suggestions on replacements!)
The basic black t-shirt – I have two that are identical (and I'm not sure which one I wore now that it's in the hamper.) One was some brand I had never heard of but was nice, soft, thin but not too thin and a little drapey. And the other I ran across at Walmart for about $5 – it was identical to the $20 no name that I liked so much and really I haven't been able to tell the difference between the two. What I got was either this or this from Walmart but I also have a dark purple t-shirt from Ann Taylor Loft that's pretty much the same fabric and I think that is the Ann Taylor Loft everyday t which is less than $10 at the moment.
My bra is my "last resort, need to do laundry now" bra so it's digging into my shoulders a little and I just noticed you can actually tell that in the photos. Oops… You don't need to tell me I need a different bra than what I'm wearing in these photos – I already know.