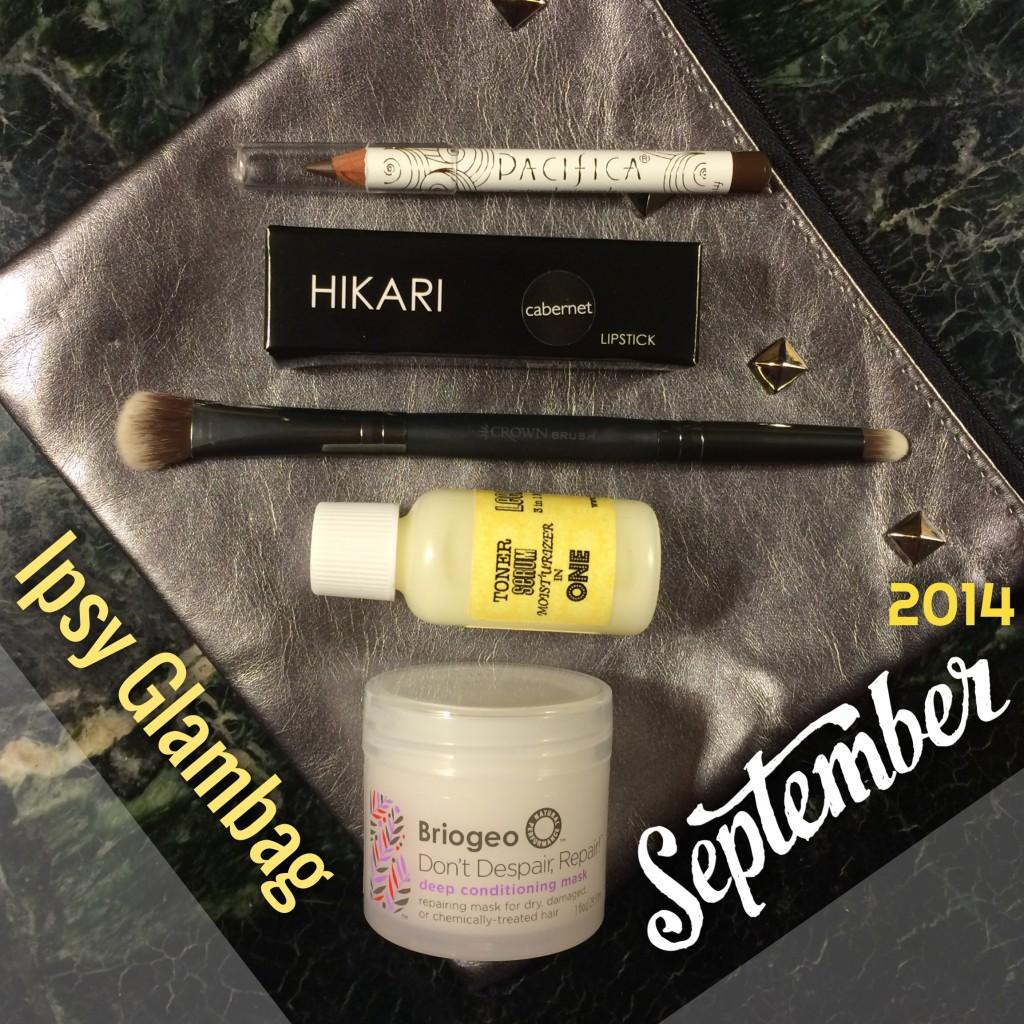 Crown Brush Infinity Shadow/Crease Duet Brush – synthetic fibers double ended brush. I don't have a preference over synthetic vs natural on brushes as long as it's a good brush for the job. At first glance and feel this seems like a good quality brush and both ends I think I would be likely to use. I think the only thing I'm not sure about is that it's double ended. I've been using brush guards on all of my brushes since I throw them in a bag. I don't think I can use the brush guard with the double ended brush though. I'm excited to try this.

Hikari Lipstick in Cabernet – so one, I wear more lipgloss than lipstick. Two, I'm not big on red lipstick. It just looks weird on me (or maybe that's just my imagination.)  The good: No fragrance, no dimethicone. The bad: it has parabens and mineral oil. The mineral oil isn't toxic but it feels weird on my skin so I avoid it. This lipstick is a 5 with the cosmetics database. Do you know how much lipstick and lipgloss you eat? Mmmm?

Pacifica Natural Water-Proof Eye Pencil in fringe (brown) – pacifica is pretty much a hands down winner brand in my opinion. A few products I can't use because of cones but otherwise it's a sure bet when it comes to healthy ingredients and a quality product. No cones in this (a reminder, cones aren't unhealthy, they just break out my skin personally) so I'm excited to try it. Even better that it's waterproof!! This is a healthy 1 with the skin deep cosmetics database.

Briogeo Don't Despair, Repair!™ Deep Conditioning Mask – Let's start with the fact that upfront they've said "This product is free of parabens, sulfates, phthalates, silicones, artificial fragrances, artificial dyes, and gluten. It is cruelty-free and contains organic ingredients." WOW. A company that seems to get it. So let's just check out the cosmetics database report on the full ingredient list.  Sooooo EWGEWG Environmental Working Group – an organization focused on research to make informed choices and live a healthy life in a healthy environment. judges vitamin A just a little more harshly than I would and it gets an 8 … which makes this a 4 with the cosmetics database. I'm giving this one some slack since the vitamin A seems to be the worst thing here. My hair could use some deep conditioning mask after all of the swimming this summer.

LeeAnni Eco 3-in-1 Revolution Light – Toner, Serum, and Moisturizer in One … and I just ran out of my face moisturizer. No cones, no parabens, no synthetic fragrances, excellent ingredient list … done and done. The cosmetic database ranks it a 1. Trying this asap.
---
Sign up for Ipsy: 



http://www.ipsy.com/?refer=u-h051sec1kqq5g8p
{affiliate link – I get 250 points which points equal products but it's still a little unclear how many points to the dollar}