The Chella Highlighter Pencil, swatch photos in "ivory lace" below, is the epitome of an incredibly useful multitasker and now a makeup staple for me.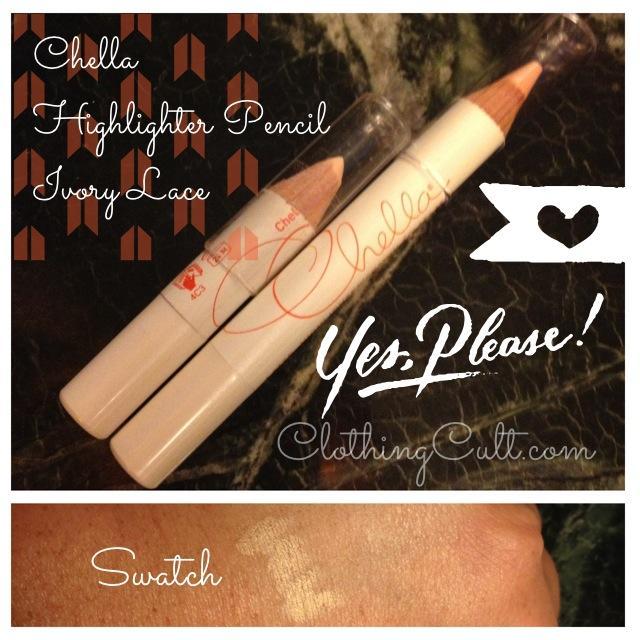 Chella says that there are over 10 different uses for their Highlighter Pencil but summarized, the 3 main basics of what the Chella Highlighter Pencil can do are:
highlight and brighten
contour
light concealer
The Chella Highlighter Pencil comes in only three shades: ivory lace, latte and cinnamon – cinnamon is not sold on Birchbox's site at the moment. With the limitations on shades, it may not double as a concealer for everyone but it is an excellent highlighter and contouring tool that blends well and will absolutely be a great addition to most people's makeup collection. The fact that it blends well makes it very natural looking.
Watch the video below to see a better swatch and how the it blends:
I received my first Chella Highlighter Pencil in Ivory Lace back in my June 2013 Ipsy Glambag and have been using it daily ever since. When I found out I was receiving another in my Birchbox for November, it just made me realize that it was now a staple for me. One that I had already been thinking about re-purchasing before I received this latest sample and will probably be ordering a backup of. Oh and 1.4grams is the sample that they sent which IS a full size product.
It rates a healthy 2 with EWG's Cosmetic Database. There are no added fragrances, no parabens, no cones. Basically there's nothing not to love here! And if you're a member with Birchbox, you can get free shipping on this product right now. And if you're not a Birchbox subscriber and are interested in subscribing, please help out this blog by signing up below! 😉
Sign up for Birchbox and shop for this product
(with free shipping and earn birchbox points)!
http://birchbox.com?raf=3l3e7
{ yes it's an affiliate link, I get 50 points which equals $5 credit – share the love! }
Or you can buy it from Chella directly here
(but you'll pay about $7 shipping and don't earn Birchbox points.)
http://chella.com/products/item/lace_highlighter_pencil
🙂 choices, choices