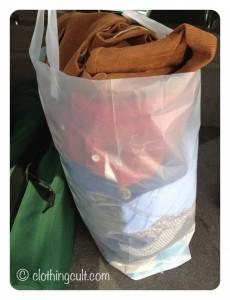 Question: I have lots of name brand clothing items that don't fit/I don't want any more, and I don't want to just give them away. I haven't been able to find any consignment stores in my area. Any ideas?
Searching google will probably help find at least a few consignment stores but if none are a good match for the items you have, here are a couple of ideas. They are listed in order of what will probably make you the most money:
Look for vintage shops particularly if your items are older OR JEANS. They may be willing to consign or flat out buy your items.
Sell your clothes on ebay. This works particularly well if you have high end or name brand items. Be sure to take good photos and use a lot of description words so more people see your item. If you have a lot of clothes to sell you might want to invest in a hanging dress form.
Look for a "Clothes Mentor "store or a "Plato's closet" or similar to buy your gently used items instead of consigning. http://www.platoscloset.com/ or http://www.clothesmentor.com/
Cheapcycle, like freecycle but for low priced used items, can be great or it can be a bit of a pain depending on who responds to your post. If you don't have time, I wouldn't try this route since you have to plan to meet with people.
http://groups.yahoo.com/group/Cheapcycle_Groups/ 
Craigslist … this shouldn't really need an explanation.
Yardsale, Garage Sale, or organize an Apartment community basement sale.
Road Trip! Research reliable consignment stores that will mail you a check and then make a road trip. Some may even let you send photos so they can tell you whether or not your trip will be worth it. This is a little bit lower on the list because it's more time and effort.
Organize a clothing swap with friends or neighbors. Search for "clothing swap tips" and you'll find plenty of suggestions on how to organize one. You won't make money on this one but your clothes will find a new home AND you'll hopefully end up with some new clothes to add to your wardrobe.
Last but not least, I know you said you didn't want to give them away but sometimes it's just better to donate some items. Sometimes it takes too much time or effort or what you own really isn't worth that much but could help out someone else's wardrobe. Goodwill is my top pick for clothes but Salvation Army is also a good option. You can take a tax deduction because these are charities. http://locator.goodwill.org/ or http://www.satruck.org/search-arc
If you're reading this and have any other tips on where to sell gently used brand name clothing, please feel free to leave them in the comments below!