While still fun, I'm less excited about it this month.
Two words: dimethicone and fragrance.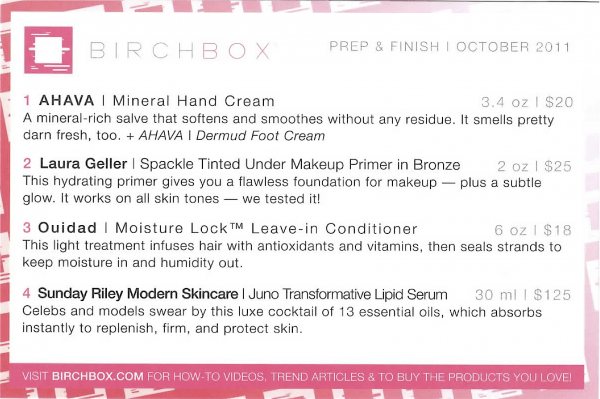 Almost everything I got has dimethicone in it which makes me break out. Now you might be thinking "you don't put hair product on your face" but trust me, anytime I put it on my hair, my hair touches my face and I again break out. I'm just over trying anything with dimethicone because even expensive products with this ingredient break me out. I keep watching hair tutorials with gorgeous silky hair and inevitably they use some serum with, yup, dimethicone (usually Frizz Ease.) The painful kind of zits, not just the ugly kind. I really wanted to try the Laura Geller bronzing primer too. 🙁 But I'll pass.
As for fragrance … really do I need to cover this one? Allergies, toxins, overpowering scent. At least the Ahava hand cream was overpowering even in the tube.
The one item I'm looking forward to trying is the "Sunday Riley Modern Skincare Juno Transformative Lipid Serum." Amazing ingredient list. Tried a little on my hand and it's clearly good stuff but a little … hippie smelling. And natural products don't need to smell … hippie. I really have no better word for it. No not patchouli hippie, it's just not exactly bad but it's not exactly good smelling either. I don't want them to add fragrance, no way, but I'll be spraying my homemade lavender spray on my face to see if that helps.
Serum INGREDIENTS: Acai seed oil, Argan oil, Black Cumin seed oil, Blackberry seed oil, Blueberry seed oil, Broccoli seed oil, Carrot seed oil, Chardonnay Grape seed oil, Cranberry seed oil, Marula oil, Meadowfoam seed oil, Pomegranate seed oil, Red Raspberry seed oil.
At $125 a pop (30 ml) I probably won't be buying this puppy unless it also fixes me coffee in the morning but the 5ml sample might last awhile. Hey never say never. If I can suddenly get less redness, more even skintone and not need foundation I'd consider it.
It's still exciting to get something fun to sort through and that serum sample alone is worth the price of the box. I guess I just wish this were a more natural selection of products that I could really dive into more.