This is my first BirchBox and it's also the first anniversary of the company.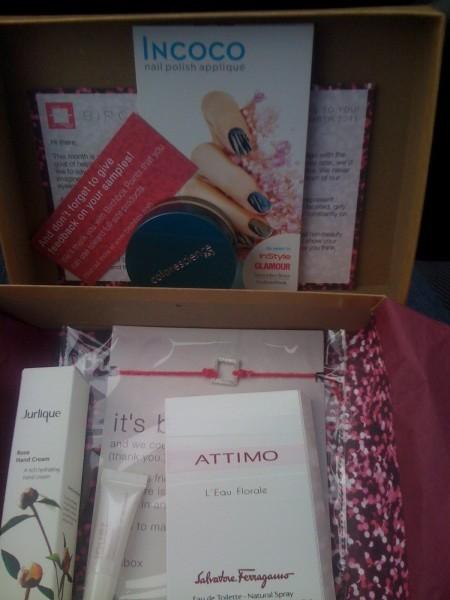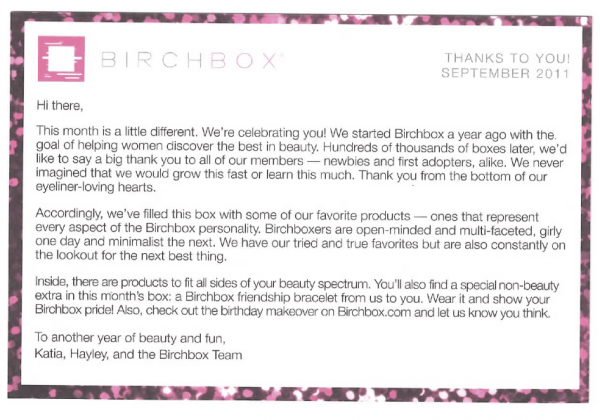 In my box: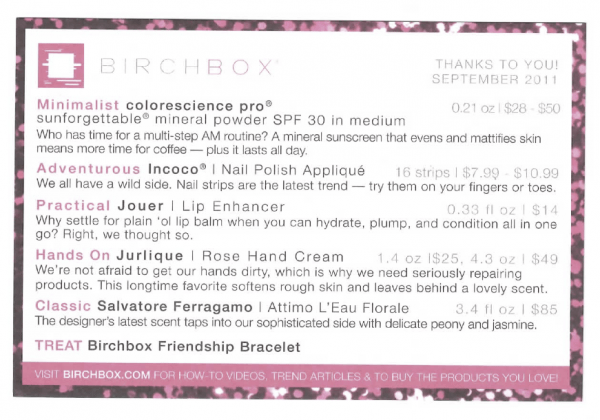 Here's a list of all the products they sent out:  http://www.birchbox.com/shop/september-box
2 products I got do not have their ingredients listed on the website: 

ColorScience Pro Sunforgettable SPF 30
This didn't have the ingredients listed so I had to email the company. It took extra effort to find their contact info but they were super fast to respond.
Active Ingredients:  Micronized Titanium Dioxide (12%), Micronized Zinc Oxide (12%) Inactive Ingredients:  Mica, Dimethicone/Vinyldimethicone Crosspolymer, Corallina Officinalis, Calcium Silicate May Contain: Iron Oxides, Titanium Dioxide, Dimethicone.


This ingredient list is actually pretty good and healthy. However I have noticed I break out more when I use anything with a "cone" in the name so Dimethicone is out for me personally. I'll be using this in part of a bigger giveaway soon.

Salvatore Ferragamo Parfums Attimo L'eau FloraleIngredients: Alcohol Denat. (sd alcohol 39-C), Aqua (Water), Parfum (fragrance), Benzyl salicylate, Butylphenyl methylpropional, butyl methoxydibibenzoylmethan, ethylhexyl methoxycinnamate, limonene, hydroxycitronellal, ethylhexyl, linalool, isoeugenol, geraniol, citral benzyl alcohol, cinnamyl alcohol, benzyl benzoate.



I think I typed all of that correctly. Here's what I got from the cosmetics database for this (click to enlarge):



Which makes me wish they had sent me the natural perfume that's on the site (

LIV GRN C2C

) instead of the Ferragamo. I listed that I was interested in natural products so I'm really unsure how this trumped the natural perfume for my box.

And a couple of additional comments:

The Julique Rose Hand Cream feels wonderful … but rose usually makes me sneeze. Since I've worked a lot on my allergies it just now makes my nose curl (if that's possible.) If you love rose this is something you should really try though.
And then the Jouer Lip Treatment has three kinds of Parabens: ISOPROPYLPARABEN, ISOBUTYLPARABEN, BUTYLPARABEN


Le sigh.
So what am I left with? Well I sprayed the Ferragamo once despite the ingredients so I did try it. Wasn't impressed at all. I did in fact try the Julique just because it's been so long since I tried anything with rose in it that I was no longer sure if I wouldn't be able to tolerate it. If it weren't for the scent it would be awesome.Which leaves me with having tried and not liked two items, and there are two items I won't be trying and then there are the nails. Probably not healthy but it's a one off and I'm going to try them.
And OMG – the Incoco is three free! Does Incoco Contain Any Formaldehyde, DBP (Dibutyl Phthalate) Or Toluene? No, Incoco nail polish appliques are three-free!Ok now I want their: French manicure in champagne, and the french tips as well as Patterns in: "Suit Up", "Crème de la Crème", or "Ballerina Princess." Let's see how long this stuff lasts on my nails since I type a lot. I may be buying some more!
Will I get another BirchBox? Yup. It's fun. And it's worth the $10 to get to try a few things even if I'm not happy with the whole shabang. If however they start sending no natural items and natural items are listed regularly for that months box I'll probably cancel because natural trumps everything else for me.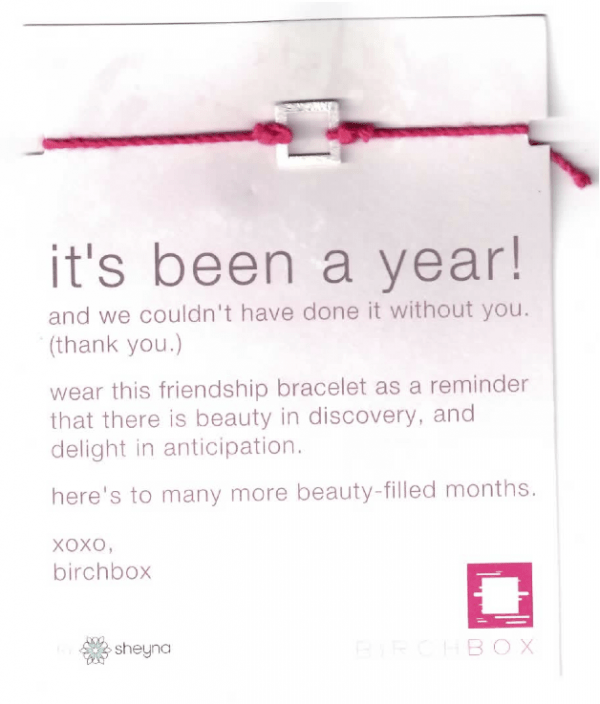 Oh great – I think the perfume is making my cat crazy – time to go wash that off before he attacks my arm.
*    *    *
Quickly playing with the zebra incoco with zoya loredana and the birchbox bracelet (click to enlarge)