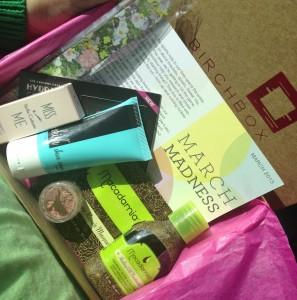 Alima Pure Luminous Shimmer Blush in Freja – This is a brand I've been wanting to try for awhile. The ingredients ARE all natural. My only disappointment in this sample is that I don't really wear blush AND even if I did this shade pretty much disappears on my cheeks because it's too close a match to what my cheeks already are. I'll probably use it on my eyes for when I want a light pinky eyeshadow. For me I wish I had received a sample of the "Melon" color. Or the satin matte bronzer in Seychelles. IF you are pale or looking for a nice light blush and you aren't naturally rosy, Freja IS an excellent color. Quality is there those so I will probably try some other products from this brand.






 – 4 out of 5 stars
Macadamia Natural Oil Healing Oil Treatment – dimethicone …






Macadamia Natural Oil Deep Repair Mask – dimethicone ..






Stella Cadent Miss Me Discrete Eau de Toilette – stop sending me perfume, particularly scents that aren't natural please!!!






Whish Shave Crave Shaving Cream (Blueberry) – The ingredient list looks good my only complaint would be the "fragrance" since  but I'm going to give it the benefit of the doubt since all of the other ingredients look good and this will be going on my legs. It also doesn't make my nose itch. UPDATE – tested. The bottle seemed to have a giant air pocket in it so there was just enough to use on my legs for shaving. I get a better shave using my everyday hair conditioner than this so I'm going to mark it down another star, I was just not wowed by this. I use a Schick Hydro Silk in case anyone is curious.






 – 2 out of 5 stars
Madewell for Birchbox nail file – it's a cute design and functional nail file. I'll use it but I will not be replacing it for their $5 price tag. Sure it ships free but I can get my nail files at Sally Beauty for a much more reasonable price. Ok … one caveat. IF for some reason I was putting together a nail gift bag for someone, the floral pattern on this would be that extra cute little touch I might spend the money on.






 – 4 out of 5 stars
Side note – I went to leave a review of the nail file and one of the questions was: "Did you use the $25 off $75+ Madewell offer? (emailed week of 3/11) *" and one of the options is "I haven't received this offer yet" which has me suspect they are batch emailing this week. I haven't received this offer yet but I wanted to mention it in case it gets caught by spam filters. I WILL probably use this coupon since I've wanted to buy some pants from them for awhile now to try.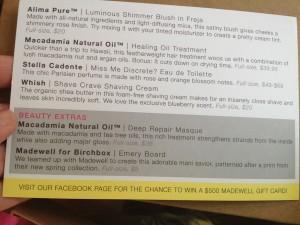 Bottom line – another month with just enough products I'll use. Not canceling just yet.
---
 Still not signed up for Birchbox? 



http://birchbox.com?raf=3l3e7
{ yes it's an affiliate link, I get 50 points which equals $5 credit – share the love! }