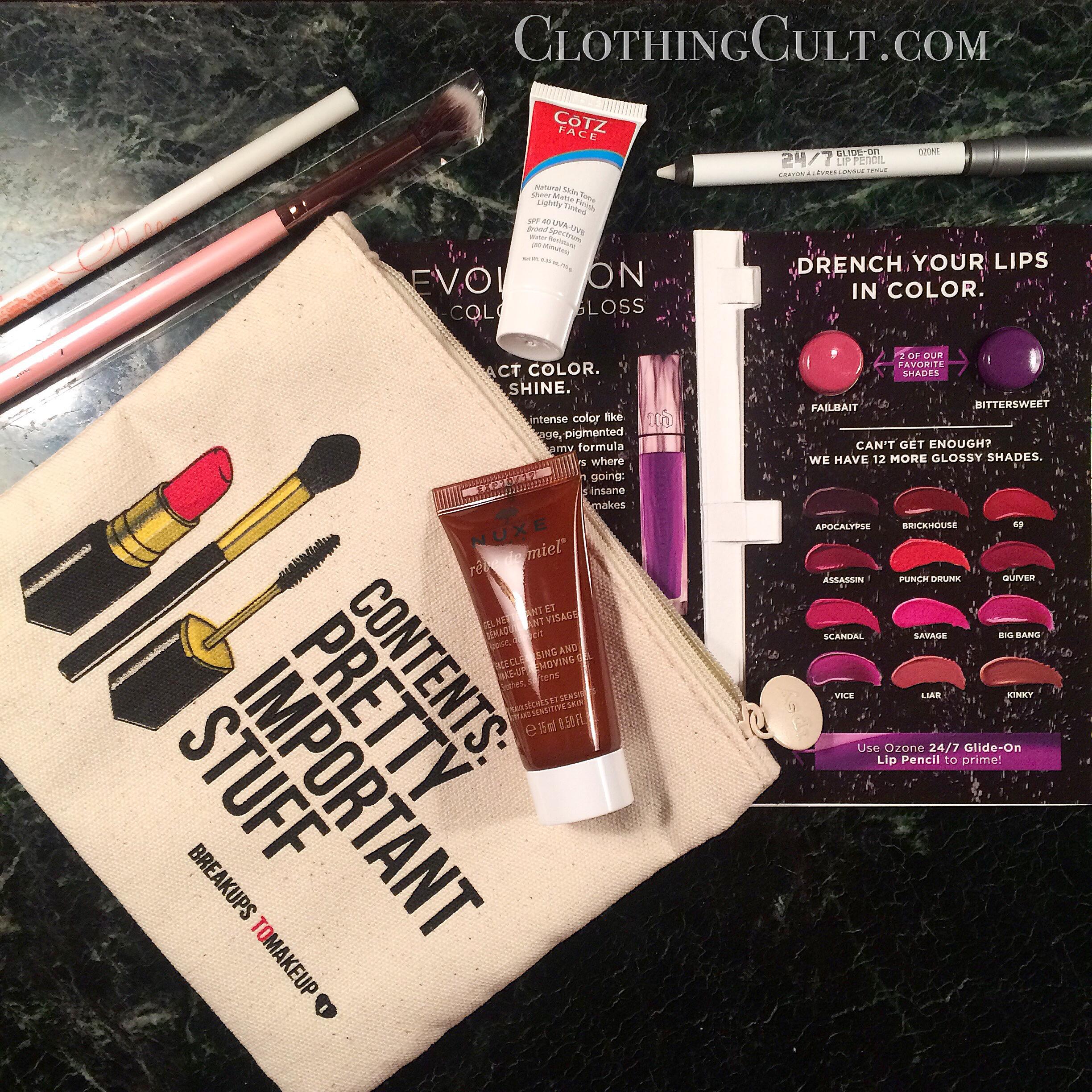 Urban Decay 24/7 Glide on Lip Pencil + BONUS Revolution High-Color Lipgloss no cones, no fragrances, no parabens … let's see how this breaks down with EWGEWG Environmental Working Group – an organization focused on research to make informed choices and live a healthy life in a healthy environment.'s skin deep cosmetics database. Well BHT didn't catch my attention and it's alone is a 6. But the overall ingredient score is a 3. Not too bad. I'm assuming the ingredients is for the lip pencil only and so I'm not sure about the bonus.

Chella Eyebrow Color Pencil So this is one that has great ingredients but I'm not likely to use it. Have you seen my eyebrows? I have plenty of eyebrow so unless I somehow over-pluck I'm not likely to use this. Yes, I know, you can have even prettier eyebrows with a eyebrow pencil even if you have thick brows, but this is just one too many products for me. AND I just see myself accentually smearing it as I type at the computer. I don't touch my eyeliner but I do touch my face more than I should. That aside the EWG skin deep score is good, it's a 1 so it's really healthy. If eyebrow pencils are your thing you might want to try this. Actually I might try it as an eyeliner…

NUXE Rêve de Miel® Facial Cleansing and Make-Up Removing Gel … fragrance … if this didn't have fragrance this would be fairly healthy. It's a 4 with the cosmetics database. I suspect it would be a 2 if it didn't have that one ingredient. I may still try this one depending on how it smells.
Luxie Beauty Tapered Blending Eye Brush 205 so no ingredients here and I personally don't have a preference on animal hair vs synthetic as long as the brush is good and suited to the type of application I want to use it for. For those who care, this is synthetic. 🙂 I'll give it a go. It's not my favorite shape brush so it might not get the same kind of use.

CoTZ Face Natural SPF 40 off to a good start touting "100% Free of Oils, Chemical Sunscreens, Preservatives, Fragrances, Oils, Parabens, PABA, Gluten, Phythalates" so dimethicone rules it out for me personally. But if you don't have any issues with cones, this is a really healthy product that comes in at a 2 with the EWG skin deep cosmetics database.
---
Sign up for Ipsy:



http://www.ipsy.com/?refer=u-h051sec1kqq5g8p
{affiliate link – I get 250 points which points equal products but it's still a little unclear how many points to the dollar}