White after labor day INSPIRATION:
Whether it's white skinny jeans, dress slacks, wide leg denim or palazzo pants, there are a variety of ways you can make white pants part of your fall & winter wardrobe.
The pictures above:
Related: Blogger of "AnnInResidence.com" created a post called "White Jeans All year long" that you should check out as well
How I made white jeans / pants work for me for fall / winter:
What I'm wearing in all three outfits above: white palazzo jeans that I bought yesterday at the Talbots Outlet, long sleeve magenta surplice tshirt from Walmart, statement necklace from Maurices, gold and white earrings from JC Penny. (Ok this is also a cheap outfit) I actually wore the one on the far right today because it was mid 60's outside here.
What I'm wearing that's different (left to right): 1) magenta ballet flats from kohl's and a camel / saddle color corduroy jacket from a consignment store haul 2) linen oatmeal wrap sweater from Talbots outlet 2&3) leopard Lauren Conrad ballet flats
Closeup of the statement necklace (click for larger):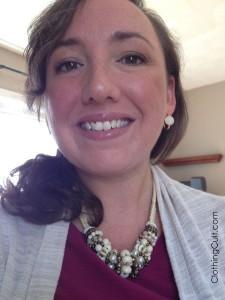 Tips for wearing white jeans / pants in fall and winter: (none of these are a requirement to make this work, just some things that might be helpful)
try sticking to more fall-like colors in your top and shoes
stick with heavier weight fabric for the white pants
a light or metallic statement necklace seems to help tie things together