Well people have been waiting for this for awhile – the ability to shop online with H&M in the US and it's now possible. So I decided to go give the site a quick look through and create a shopping wishlist. What I ended up with is a lot of basics I don't really need at this exact moment … but might buy sometime soon because they're still basics. I think the other reason I'm not chomping at the bit to buy something is that all of the clothes are in dark colors and I'm still in a bright summery mood. Anyway here goes: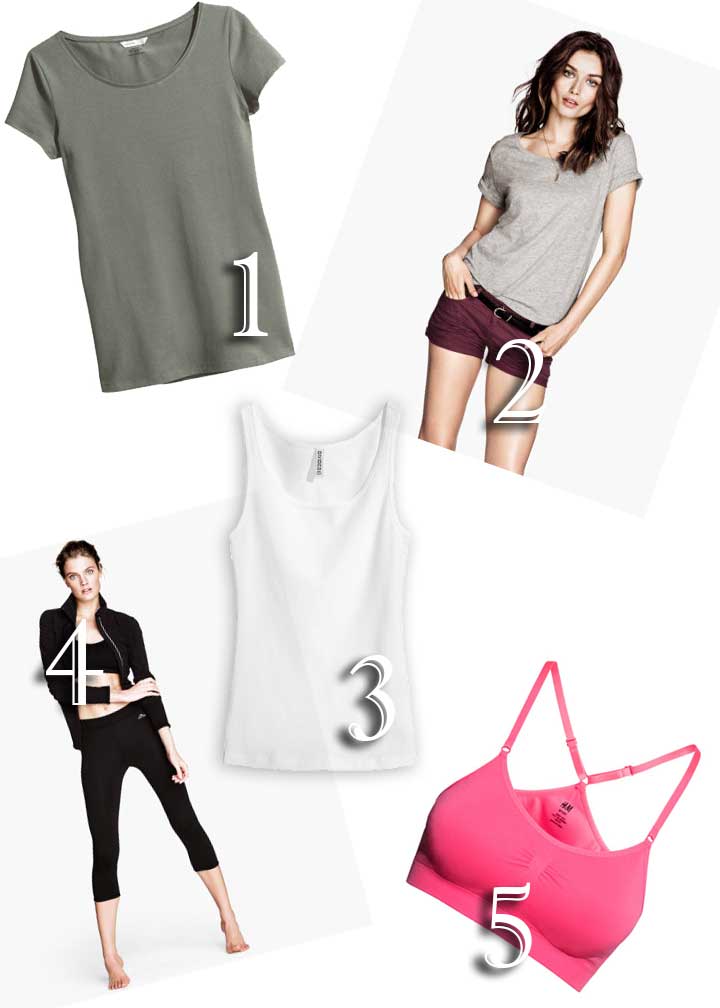 H&M Top $9.95 in Khaki Green (or black or white or grey …they're super basic shirts and they're cheap.) Fitted 95% pima cotton, 5% spandex 

Art.No. 75-0329. I like the v-neck shirts too but I need more shirts with this neckline at the moment.

H&M Top in Slub Jersey $9.95 in grey (or red … other color options too) loose fitting. 88% cotton, 12% rayon. Art.No. 75-4225
H&M Jersey Tank Top $5.95 in white – I need a couple more white tanks for under certain items. Not likely to go wrong with these even though my favorite tank is from Chico's. 95% cotton, 5% spandex. Art.No. 74-5150
H&M Sports Leggings $24.95 in black – I just need some new crop yoga pants and these look like a match for what I like. I'm a little iffy thought because I think I would rather have cotton spandex than poly spandex. Quick-dry, 88% polyester, 12% spandex. Art.No. 73-7039
H&M Sports Bra $14.95 in neon pink and neon green. These look dead on like the Champion sports bras I love (and haven't seen since I bought the two I own.) Same price as what I bought previously too. Quick-dry, 95% nylon, 5% spandex. Art.No. 73-7068
So yes, my H&M wishlist is rather boring. Mostly I would be likely to buy basic tshirts from H&M but that's pretty much what I've always wanted to buy from them I think.
I hate spending money on tshirts because they seem like such a crapshoot. I've purchased $30 shirts before that pill after the first wash and $5 (not on sale) shirts that have stood the test of time and numerous washes. Oh and then there's still the likelihood that my cat will poke a hole in the shirt dooming it to it's remaining days to be a workout or sleep shirt.
What's on your H&M shopping or wishlist?