I was trying to buy a replacement for the Victoria's Secret leggings / yoga pants I have loved and worn since 2010. I've been wearing regularly to sleep in and sometimes wear to yoga class. They were a good quality materials but they are now literally coming apart at the seams now with regular wear so I needed to buy replacements.
What I had no longer existed by name and number so I compared and shopped and shopped and compared and finally settled on two pairs of ZF-289992 or #289-981 the VS "Daily Crop Legging" in black. What I had didn't have the foldover top which these matched.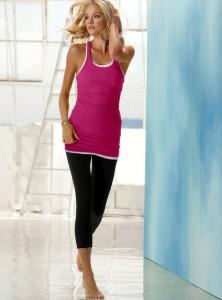 They also showed the modal wearing a long shirt and say:  "Live in leggings? So do we. That's because this sleek, chic knit is so much more than a legging. It's a want-it-now, need-it-in-every-color, go-everywhere essential. Slip it on under almost any layer: it's as soft and comfy as your favorite tee."
So where's my review? It's fairly short. They're see through!!!! My favorite tshirts are not so thin they're see through like this. And I don't mean I bought a size too small and they stretched see-through. I also don't mean VPL because I'm wearing granny panties see-through either.
When I say they're see-though I mean you can see the COLOR of my underwear through black! (Which is also why I'm not showing you pictures!!!)
I know that what I loved I had bought two years ago but these looked like the same style and they were a similar price point and most of Victoria's Secret's products haven't changed price much so I really thought I would be getting something comparable.
So sure, if you want tights with no feet to go under a dress or tunic, these are soft and nice. If you were looking for something less see-through then don't buy these.
So taking these back and I'm back to the drawing board… probably not from VS this time.  :/
PS – I bought a pair of clearance undies too … when did they start putting an obnoxiously long tag in the FRONT? Or was that why they were clearance?
If you like what you see, don't forget to pin it or share the link!

Tweetable! http://clicktotweet.com/60q0c
Click the tweetable link to share this blog post quickly on twitter.
There is a preview so you can make alterations before it posts.