http://www.everydayminerals.com/store/face-natural-reflections-summer-bronze.html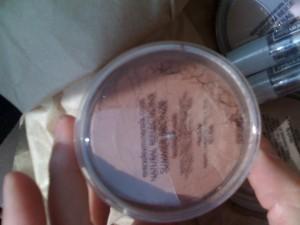 I got this to compare to Everyday Minerals "Raw Sugar" since they don't carry that anymore and it's my staple bronzer. Often bronzers will look either too pink or too yellow or too muddy on me (no matter how light I try and apply them.) The Summer Bronze is "ok" … I'm not amazed and in love but it's better than nothing and it does NOT look too yellow or too pink.
In fact it will probably work pretty well for the summer because it has a hint of pink to it and I'm spending more time outside so I may need a little more contrast.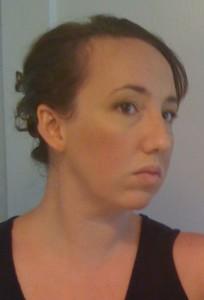 I took a lot of photos so you can see it in different lights as well as compared to the Everyday Minerals medium beige foundation (in pics above.)
"Natural Reflections Summer Bronze" on LEFT and "Raw Sugar" on the RIGHT side of my hand. Pics inside and in direct light. The Summer Bronze does not have any shimmer which some people will probably like.
Everyday Minerals is becoming this horrible love hate relationship for me, I find something I love so much it becomes an staple item I use daily and bam, they stop carrying it. First the pressed powder, then the bronzer.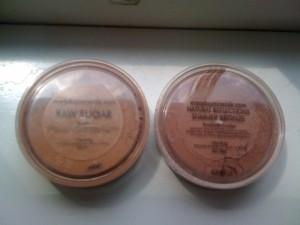 Right now this bronzer is only $4.50 for the full size so I expect this to go out of stock like anything else I like.
And a quick note on the foundation, I previously posted EM's response about no longer having the pressed powder (though they "say" they're planning on bringing it back, I just don't think that's likely anymore.) I bought both matte and semi-matte powders to try. I can't use either individually, I really do have to mix them to get the right coverage and color for me which is really frustrating.
EM used to sell mixing containers … I need that because I don't have any empty sifters and it's a pain to open two different screw top containers each morning for one simple task. I really like their close-able sifter covers.
Anyone have any spare empty EM containers they want to ship to me? Otherwise I guess I could dump them both out into a bowl in the kitchen and then refill the existing containers … I guess that's what I'll actually end up doing.